Nothing Can Stop Elkhorn's Show Choirs
The show choir showcase was only the beginning to an astonishing season.
Hang on for a minute...we're trying to find some more stories you might like.
The show choir season has only just begun and the Elkhorn High School show choirs are already dazzling audiences and snagging trophies. On Thursday, January 10th, the Elkhorn High show choirs performed their amazing productions for the first time at their annual Preview Night. The seats of the auditorium were packed, full of excited Elkhorn folks waiting to see their kids, friends, and siblings.
Mrs. Simmons and Ms. Thompson, the choir directors,  put out an amazing show for us. Excel seemed to be the audience's favorite; the cheering and standing ovation they received was well deserved for their hard work. The overall appearance of the production had a dark beginning to a light and free-feeling ending.
The theme of this year's show was "Cages to Wings." Excel definitely portrayed the caged feeling towards the audience and gave everyone a shock when the costume change shifted the entire mood of the performance. In my opinion, Excel's show was a 10/10
As for the all-girl group, Exhilaration, the monarchy theme was beautiful. I thought the costumes and appearance of the costumes matched very well.
Hailee Janousek, the "queen" in the performance, had been rightfully chosen for her role as her demeanor fit the style of the show well and she gave her solo her all. The only issue was the costume change, where there were some minor malfunctions. Some shirts were left unbuttoned and cardigans were falling, yet these little issues were not such a problem to the girls or the crowd. The crowd truly fell for the magnificent performance of our "queens of the night."
And finally, for Nexus, the all-boy group, had a baseball-themed show that had a humorous and a fun feel. The boys' choreography was forceful and strong, yet enjoyable to watch. The facials the boys gave were spot on with the effect of being at a ball game, as they pretended to watch a ball soar through the air. The only mishaps occurred during their handshakes, which were slightly messy, making the short minute or two feel sloppy. But the ending pose was by far my favorite of the 3 groups, with how they posed as if they won the ball game.
The reaction of the entire crowd after all 3 groups was astounding applause. The Elkhorn Show Choirs are sure to have a successful season if their preview night was any indication.
About the Writer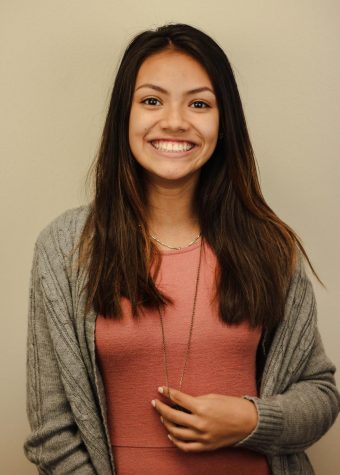 Faith Herbers, Reporter
Faith is a sophomore and a first-year reporter at the Antler Express. She also designs our banners!