Reviving the Dead
Zombieland: Double Tap finally premieres after a ten year wait.
Hang on for a minute...we're trying to find some more stories you might like.
Welcome to Zombieland. 
In post-apocalyptic America, four misfits are determined to stay alive, kill a few zombies, and have some fun. After a long ten years, the sequel to the blockbuster hit Zombieland has finally arrived, carrying all the same wit, creativity, and originality as the first. 
The sequel, Zombieland: Double Tap, picks up ten years into the future, where our four main characters have formed their own makeshift family in the wake of the apocalypse. Main characters Columbus and Tallahassee, played by Woody Harrelson and Jesse Eisenberg, are content with settling down and finding some peace, while sisters Wichita and Little Rock, played by Emma Stone and Abigail Breslin, are restless to get back on the road in search of other survivors. After waking up one day to find that Little Rock ran away, the trio must drive across the country to save her from the world of brain-hungry zombies. 
In tradition with the last film, anxiety-ridden Columbus has a list of rules for surviving Zombieland that are quoted throughout the movie. These rules include everything from the importance of cardio, to seatbelts, to enjoying the little things. Watching the rules pop up in the most intense parts of the movie was one of my absolute favorite parts of the original. 
In addition to Columbus' list of rules, Zombieland: Double Tap, included new classifications for the types of zombies running rampant. While the creative classifications provided some new humor, I thought it was a slightly underdeveloped part of the film. Though they mentioned the different types of zombies from time to time, it played little importance to the main story. 
One of my favorite new additions to the film was the character Madison. After the crew discovers Madison hidden inside a mall ice cream shop, they decide she can tag along. However, Madison soon proves to be unbearable. She is constantly getting in the way, whining, and spouting out shockingly dumb comments, all while sporting a pink fluffy coat and Louis Vuitton luggage. While the film unabashedly perpetuates the dumb blonde stereotype, Madison perfectly juxtaposed the gang of proffessional zombie killers. As a blonde named Madison I should probably be offended, but this new character had me cackling in the theatre. 
Zombieland: Double Tap is a hilarious take on the zombie apocalypse. While the movie was a little predictable, a little cliche, and things wrapped up a little too nicely, Harrelson and Eisenberg make a ridiculous duo that is well-worth the watch. 
Signing off from Zombieland, 
Stay safe out there. 
About the Writer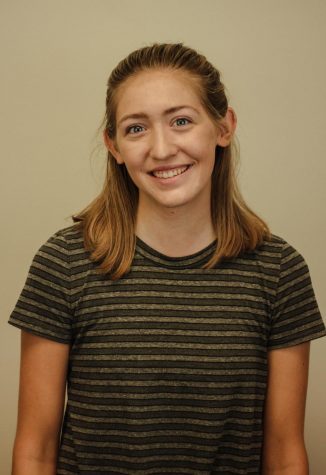 Madi VanWyngarden, Print Editor
Madi is the Editor-in-Chief of the Antler Express. She is a senior and a third-year reporter at the Antler Express.