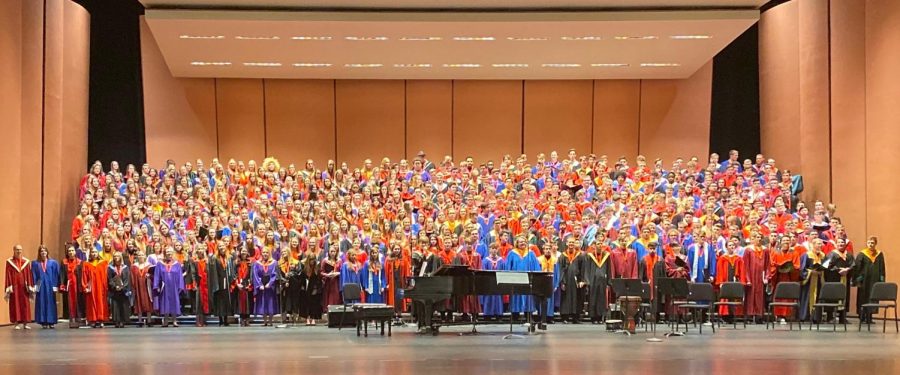 All State Choir
2019 All State Choir students share their experiences from the weekend in Lincoln.
December 11, 2019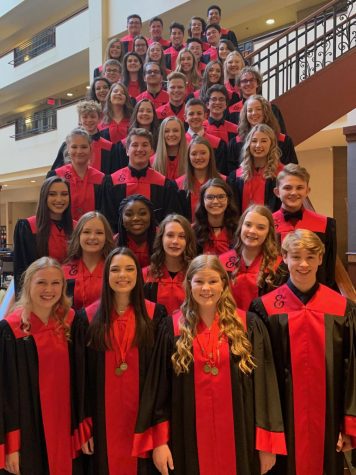 42 Elkhorn High choir students had the opportunity to spend this past weekend in Lincoln to perform in the Nebraska All-State choir. After an audition process, they came together with 440 of the top choir students across the state of Nebraska. They attended rehearsals Thursday and Friday and performed at UNL's Lied Center on Saturday. A speaker at the event mentioned that All State Choir is the highest honor of a choir student in the state. Along with the incredible opportunity to sing with the most talented singers in the state, many students love the opportunity to be with their friends in Lincoln.
"Spending time with my friends was my favorite part of the weekend" junior, Max Sorsenson said.
The free time given to the students is a great opportunity for bonding and making great memories together. However, the sound of the choir is also a cherished part of the weekend.
"For me personally, this year was special because it was my fourth year in All State, making me the first, and only right now from Elkhorn to go for four years straight" senior, Garret Paxton said.
Garret Paxton has been accepted into the Nebraska All State choir every year since his freshman year in 2016. He was recognized, along with three other seniors that have attended four straight years as well.
The performance on Saturday, October 23, was directed by Brady Allred. The choir sang a total of seven pieces, with one women's piece and one men's piece. Parents and family members attended to enjoy the performance at the end of the weekend.
"Hearing all the voices blend together was a very very powerful sound" Sorenson said.
"Since it is made up of over 400 of the best singers, it's awesome just to listen to the people around you," Paxton said.
After a weekend full of activities and opportunities, our 42 Elkhorn students had a great experience.
"All state is always one of my favorite times of the year," Paxton said.