There's No Beauty in Laying Off Employees: Sephora Lays Off Nearly 4,000 Employees During COVID-19 Pandemic
by Ashtyn Tridle | April 3, 2020 10:46 am
Luxury beauty store Sephora laid off nearly 4,000 part-time employees via conference call Tuesday afternoon due to having extended store closures because of COVID-19. 
Prior to laying off employees, Sephora's CEO, Jean-André Rougeot released a public statement March 16th, stating that all United States and Canadian Sephora stores would be closed until April 3rd. Before ending the letter, Rougeot added,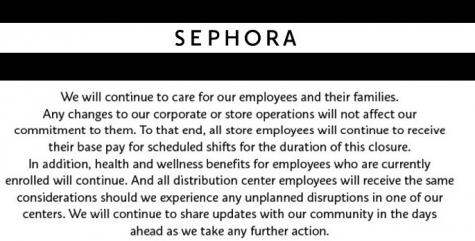 On Tuesday, March 31st, part-time employees were notified of a "mandatory" conference call where they were then told to mute themselves and that they would be laid off effective April 3rd as Sephora has decided to remain closed indefinitely. Many part-time employees have said that after their district managers gave them the news, the call ended without anybody being able to ask questions. The laid-off employees were also told that when the Sephora stores would open up again, they can reapply for hire and be placed at the top of the waiting list.
Sephora is a $4 billion company owned by LVMH, a $79 billion company. Sephora has made headlines in the past for being the only physical store to sell Rihanna's beauty line, Fenty Beauty. The brand's inclusivity marketing has also helped its image with its slogan, "We belong to something beautiful." 
 Many part-time employees and customers  took to Twitter to express their anger to Sephora:
Before the layoffs, Sephora employed nearly 13,000 US employees. In a new statement on Sephora's website, CEO Rougeot said that more than 9,000 employees still remain employed and that they will continue to receive pay based on their average number of hours worked. 
As Mark Cuban, an American entrepreneur and investor, said, "How companies respond to coronavirus will 'define their brand' for decades." Customers have voiced their opinions towards the company on various social media platforms, saying that they will no longer be supporting Sephora because of their treatment towards part-time employees.
Many retail companies such as Victoria's Secret and Bath and Body Works have been furloughing their retail workers instead, meaning that their workers are guaranteed their job back when stores open but they won't be paid during the time that the companies are closed. Other stores furloughing include Urban Outfitters, Macy's, JCPenney's, and Kohl's. 
Sephora's Full Statement: 
As we continue to navigate these challenging times, the health and safety of our employees, their families, and the community remains our first priority. Therefore, all Sephora stores across the US will remain closed until we can responsibly welcome back clients and staff, in accordance with guidance from public health authorities. With the extended store closure and reality of the situation right now, we need to continue to navigate this crisis responsibly to ensure the long-term health of our business. With a smaller workforce required to execute in this new environment, we have made the difficult decision to let go of a portion of our part-time and seasonal store employee base. All have been offered severance and provided with support resources, including coordination with companies that provide essential services and may be hiring at this time. It is our sincerest hope that we are able to bring these employees back on staff in the near future. Remaining part- and all full-time store employees, which represent the vast majority of our field workforce, will continue to be paid 100 percent based on average hours worked through late May (or until our stores reopen, whichever happens sooner) and will continue to receive their benefits. This prolonged crisis has required many companies to make tough decisions, and we are no different. With a strong future in mind, we believe our decisions now will help ensure we are able to reopen our doors for our community when that time comes.
Endnotes:
March 31, 2020: https://twitter.com/brittcoorpender/status/1245091026202550272?ref_src=twsrc%5Etfw
@Sephora: https://twitter.com/Sephora?ref_src=twsrc%5Etfw
#boycottsephora: https://twitter.com/hashtag/boycottsephora?src=hash&ref_src=twsrc%5Etfw
pic.twitter.com/hYk7jj5bAH: https://t.co/hYk7jj5bAH
April 1, 2020: https://twitter.com/LexiCorno/status/1245157109970251776?ref_src=twsrc%5Etfw
April 1, 2020: https://twitter.com/Stardust_Megu/status/1245333568005582848?ref_src=twsrc%5Etfw
Source URL: https://antler.express/4536/news/theres-no-beauty-in-laying-off-employees-sephora-lays-off-nearly-4000-employees-during-covid-19-pandemic/
---