'Twas the Night to Remember… Just Postponed
Some students at Elkhorn High took it upon themselves to throw a personalized prom.
August 17, 2020
As juniors and seniors looked forward to prom in the Spring, COVID-19 stripped the dance from their hands. Junior Class Board was informed that they could not continue planning the school-hosted prom, but that did not stop these two now-seniors from throwing summer proms of their own!
Haley Thompson hosted her prom as a fun way to make up for the one Elkhorn had missed. "All of us had our prom canceled so it was fun to do something as a big group," Thompson said. "A lot of people wanted to dress up and hangout with their friends and I happened to have a great space to host."
This prom took place on July 10th at Thompson's grandfather's house, where her, her stepmom, and a few friends started to plan it together. They all showed up early to set up the tables, lights and speakers. They had even catered the prom to add the effect that that was a "real prom." Tiki torches, beachy table toppers and flowers from leis decorated the backyard.
For safety purposes, Thompson tried to keep the invitations exclusive. She focused on making sure her close friends were there as well as some whom she believed would have a good time and would be comfortable with the rest of the crowd.
This prom was not your typical formal prom; to keep the theme summer-y, the dress code was beachy. "When I first sent out the invites, girls were asking about what they should be wearing," Thompson said. "So I let everyone know, and even sent out pictures for ideas, think about what you would wear to a beach wedding." All the girls wore slightly formal sundresses and guys were in button downs and dress shorts. "Not the normal super formal dresses and suits."
During Thompson's prom, it all started out with pictures and hanging out, which gave people time to warm up to each other. Parents were also welcome to come down and take pictures of their children. After about an hour or two came the dancing. "The dance was the hardest part of the prom." Thompson said. "It was hard to pick music that everyone liked, we even made a playlist for it." According to Thompson, people were a bit unsure about the dance portion, but "we still had our fun with everyone and that's what makes this prom different from high school prom, there's less attention on you."
At around 7 that night, everyone started changing into their swimsuits for the pool party. "This part of the prom took up the majority of the time, everyone was swimming, hanging out and playing yard games." Thompson said. "We had the prom on the 10th because the neighborhood was having a big firework show that night." Everyone at the prom grabbed blankets and towels and headed onto the golf course to enjoy the show.
Unlike Thompson's prom, Avery Sufficool's dance was a more formal occasion. This dance was more exclusive (moreso a friend group and dates), and the dance was organized by the girl's moms. "The moms had a groupchat and meetings to plan it all together." Sufficool said.
"The dance was supposed to be a surprise for us girls but we kinda figured out it was happening but the details were still kept a surprise," Sufficool said. "Our moms felt bad that we couldn't have our real prom, especially since a lot of us girls had already bought our dresses and couldn't return [them] so it was a good way to do something together."
The prom started the evening of July 7th, where all the girls met at the Sufficool's house. "After we got all ready, the guys picked us up and we went to Westshores where there was this barn and land that we took pictures at." Sufficool said. "There was this beautiful tree we all had to take pictures at and it was so nice to see everyone all dressed up." 
After photos they all headed back to the Sufficool home for dinner where they had catered Chipotle. The decor for dinner and hangout space was "girly," consisting of lots of flowers and lights.
Another family hosted the afterparty where they had the dance portion, changed into swimsuits and swam in their lake. "We hung out and had such a great time with everyone, and our prom ended at 1:30," Sufficool said.
Elkhorn's Prom was officially canceled due to the coronavirus, but these two students wanted to try and make up for the one they had missed.
"This prom had a completely different vibe all together so it was hard to compare to Elkhorn's proms, but everyone there enjoyed it and told me that it was a lot of fun," Thompson said. "But of course I would've liked to go to our real prom, dressing up in real gowns and prom court is something I wouldn't wanna miss."  
"The majority of the girls and I haven't been to one of Elkhorn's proms prior so it is hard to compare, and we definitely had a great time, but we didn't get to experience the prom court or seeing your school friends and being around all those people." Sufficool said. "I definitely would've liked to attend one of the real proms, but we made the best of the situation.
About the Contributor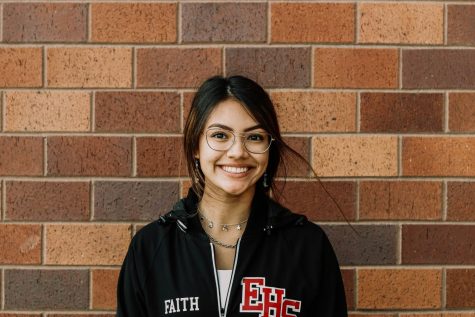 Faith Herbers, Web Graphics Editor
Faith is the Web Graphics Editor. She is a senior and third-year reporter at the Antler Express.