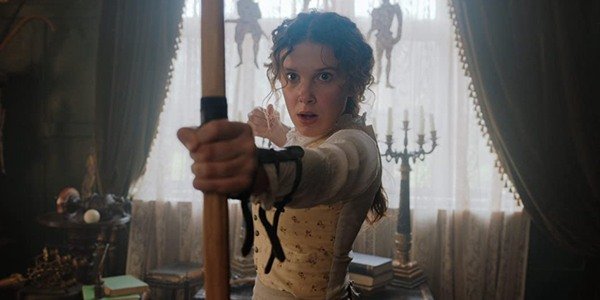 Enola Holmes, an Unexpected Hero
In the new Netflix Original adaptation of the novels by Nancy Springer, Enola Holmes puts viewers through a series of plot twists and unexpected turns of events for two hours. 
October 5, 2020
Enola Holmes, which was released on the 23rd of September, follows our protagonist Enola, the sister of Mycroft and Sherlock Holmes, through a series of tribulations that result in various near-death situations. 
Enola, portrayed by Millie Bobby Brown, is very different from the other young ladies of the area; not proper but daring, not elegant but rambunctious. The first issue of the show presents itself when her mother Eudoria Holmes, played by Helena Bonham Carter, disappears. Enola follows her through a series of clues, but not before helping a boy she finds along the way. Lord Tewksbury, played by English actor Louis Partridge, presents himself to Enola as an "unnecessary boy," but she soon grows fond of him. Through the film, teenage Enola proves herself a valuable detective, with skills comparable to those of her older brother Sherlock.
"There was a useless boy, but I rid myself of him."
Set in the late 1800's England, Enola's progressive views and breaking of social norms create a hero, especially for young girls. Her lack of care for societal standards and need to be free sets Enola up to be a lovable and inspirational young woman. 
Panoramic shots of the English countryside and music composed by Daniel Pemberton create a charming experience, but flashbacks and fight scenes create a tone more similar to that of an action film. Through the entirety of the film, Enola breaks the fourth wall, often asking the audience for help with her situations or making remarks about her current situations. This reels the audience in, and makes the viewing experience even more personable. 
Enola Holmes is not only a great addition to Millie Bobby Brown's portfolio, but also one of the best Netflix Originals produced this year. Its admirable characters and renowned cast create a notable film that excites and intrigues viewers.