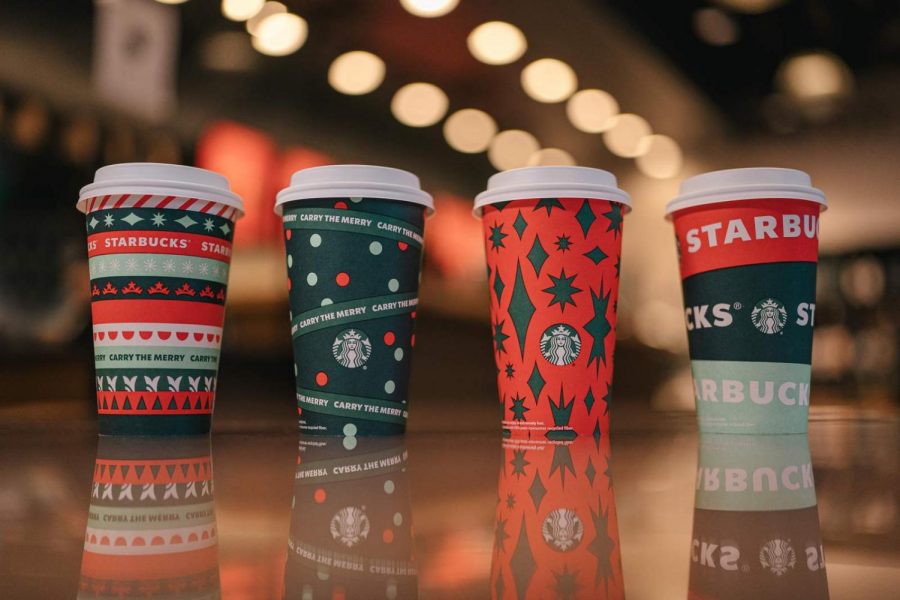 Cheers to the Holidays
This holiday season, I put my taste buds to the test to discover the drinks that are well worth your time.
Given that holiday drinks decided to come earlier than ever before this year, I had to make my way to popular coffee stops in town. After analyzing drinks from both Scooters and Starbucks, I have ranked each drink worst to best. The description that follows will include advantages and disadvantages regarding the specified drink. 
Starbucks Peppermint Mocha: Coming in last is Starbucks Peppermint Mocha. The overall flavor of the drink had a nice balance between the peppermint and mocha counterparts. However, the mocha leaves a lot to be desired. The mocha's gritty consistency took away from the espresso and peppermint. Granted, I tried this drink iced, so a hot version may have the potential to give the drink a better texture. ✭✭✩✩✩
Scooters Holiday Spice Caramelicious: Next up is Scooters Holiday Spice Caramelicious. The drink lives up to its name, perfectly encapsulating holiday in a cup. Containing a plethora of spices, the Holiday Spice Caramelicious intrigues the taste buds. The only downside I noticed was the aftertaste I experienced. With this drink being my favorite last year, the unique flavor that appeared after each sip came as quite a surprise. ★★☆☆☆
Starbucks Caramel Brulee Latte: As quite a holiday staple, the Caramel Brulee Latte left me content with my order. It's hard to go wrong with a classic like caramel. The drink was different enough from a caramel macchiato, but still a safe drink in order to get me in the holiday spirit. If you're looking for a drink that has more of a coffee taste, then this is not the drink for you. ★★★☆☆
Scooters Sugar Cookie Latte: You would think that a cookie would be difficult to put into coffee form, but Scooters perfectly executed their take. When I had first ordered it, the espresso flavor clashed with the syrup, but when I got it without any shots, the flavor was delightful. The holiday sprinkles on the top of the latte added the right amount of cheer to the experience. ★★★★☆
Scooters Peppermint Mocha: Unlike Starbucks, Scooters Peppermint Mocha is by far one of my holiday drink staples. The peppermint and mocha components worked seamlessly together, allowing me to be able to taste each flavor. The mocha had a smoother texture thus allowing me to rate this drink higher. You can't go wrong with peppermint during winter. ★★★★☆
Starbucks Chestnut Praline Latte: Personally, with the name not seeming very appealing, I was not expecting much from the Praline Latte. However, I got hooked on this drink last year, and I continue to get this. Similar to the nut flavors of hazelnut flavoring, the latte provided a savory undertone that contrasted nicely with the espresso. I highly recommend this drink to those who are looking for a drink that isn't exceedingly sweet. ★★★★★
Starbucks Toasted White Chocolate Mocha: The final and most scrumptious holiday drink I tried this season was Starbucks Toasted White Chocolate Mocha. It doesn't sound like much, given that a White Chocolate Mocha exists all throughout the year, but this drink is definitely worth your time. The only way I can describe the flavor is comparing it to sitting by a fireplace on a cold, winter night. The toasted element gives the drink a tasteful twist that left me longing for more.  ★★★★★