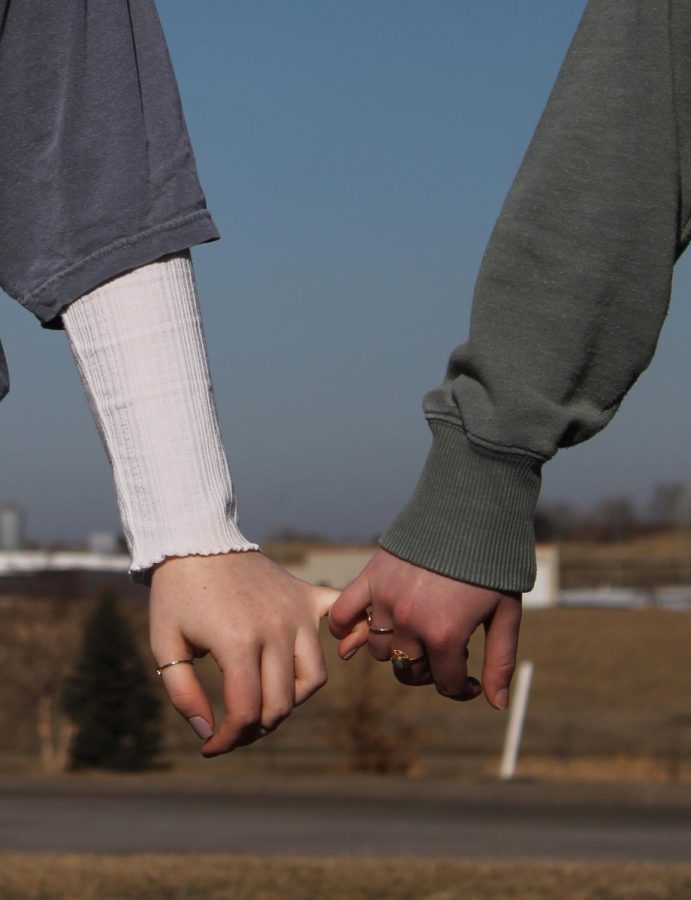 Resilience and Resistance
The fight for queer equality in the United States has gained momentum, but where does that leave Elkhorn students?
April 23, 2021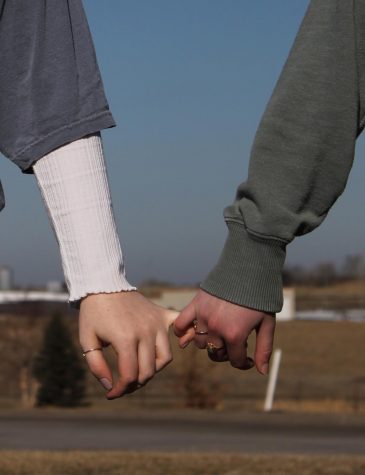 The topic of sexuality and gender identity are inherently personal. This is the story of Elkhorn students and their experiences establishing their identities. In order to protect the privacy of those who asked to be interviewed anonymously, we have created fake names. Any person's name followed by an asterisk (*) is an EHS student who has decided to remain anonymous. We thank those who allowed us to talk with them about their experiences in Elkhorn, and we ask that you please allow them to remain anonymous. Additionally, the term "queer" is used throughout the story as an umbrella term referring to all people who identify as anything other than straight or cisgendered, and is not being used in a derogatory manner. 
One message was all it took. Olivia* felt relieved; free, even. 
It wasn't like she was trying to be someone she wasn't. It felt like people were trying to put a label on her that just wasn't right. She needed someone she trusted to know who she really was.
After weeks of waiting, she decided that the time was now. She picked up her phone, opened Snapchat, and started a conversation that was both liberating yet so foreign. She finally told a friend that she was bisexual. 
"I did feel like a weight was lifted off my shoulders," Olivia* said. "More than that, though, I felt like they could see me for who I was rather than try to fit me into a box where I didn't belong." 
A growing number of Elkhorn students have stories like Olivia's*, where they share a part of them so personal with the ones they care about. While narratives like these are becoming more common, many still struggle, as students interviewed said they feel the Elkhorn community may not be entirely accepting.
Queer students may experience backlash for being openly LGBT+, but even those who have chosen to remain closeted may feel isolated because of their identity. This leads to many feeling like they have to hide who they truly are in order to feel like they fit in.
"I think it's hard for a lot of people to come out because they might not be accepted because they're not 'cool,' or, like, it's not a 'personality trait' for them. I feel like it's a weird ratio of people who are out to people who are actually gay in this school," Amelia*, a bisexual female, said. " I feel like Elkhorn is welcoming, but only to a select few. I wish it were easier here to be who you are without people questioning you or judging you." 
The fight for equality in the United States is one that has been and is being fought by many different groups of people. On both a local and a national scale, the fight for LGBT+ equality is one that has been active for decades. In the past years, openly identifying as queer has become more normalized, but many claim that there are still changes that must be made. 
Until last year, the Supreme Court had never ruled in favor of nondiscrimination against LGBT+ people besides Obergefell v. Hodges, which legalized gay marriage nationwide. In a revolutionary 6-3 decision, two conservative judges voted with the court's liberals to protect LGBT+ workers through federal law. One of the deciding votes on this case, Justice Neil Gorsuch, who was appointed under former president Donald Trump, claimed that lesbian, gay, and transgender workers were protected under the Civil Rights Act of 1964. This was done by looping LGBT workers under the umbrella of "sex," claiming that a man should not be fired for having a relationship with another man because a woman would not be fired for doing so. 
This decision made waves locally as the issue presented mirrored discriminations taking place in this state. It was common in Nebraska for LGBT+ identifying persons to be fired on the basis of sexual orientation or gender identification. 
"It's almost unbelievable that it took until last year just to gain some protections in the workplace," Jordan*, a bisexual female, said. "Who you love shouldn't be a determining factor for where you're allowed to work."
The EQUALITY Act, which passed the House in late February, is the next step in many minds. This, if passed through the Senate, will amend the Civil Rights Act of 1964 to explicitly outlaw discrimination on the basis of sexual orientation or gender identity. While it was interpreted last year that certain LGBT+ workers fall under the umbrella of sex, this act is still seen as critical, as it inscribes this decision into law. 
Although this case signifies national change, locally, progress is still being made. According to the Human Rights Campaign, Nebraska is one of the least progressive states in the nation, being categorized as "High Priority to Achieve Basic Equality" for LGBT+ people, meaning that advocates are focusing on blocking harmful legislation rather than passing progressive laws as a sort of damage control. 
Some cities are more focused on protection than others, however. On February 22, 2021, Lincoln became the first and only city in Nebraska to place a legal ban on conversion therapy. Conversion therapy, according to the Human Rights Campaign, is a pseudoscientific, dangerous practice used in an attempt to change one's sexuality or gender identity from queer to straight or cis. Many people who experience this are sent to conversion therapy camps by their families against their own will. 
"I think [the ban] is amazing, and now there are more people who don't have to be as scared to come out to their family," Andrew*, who identifies as a gay male, said. 
Although Lincoln is receiving praise for this step forward, many people are still dissatisfied with the state of LGBT+ equality in Nebraska. 
"I think it's a good step that Nebraska's made, but it's too late. It's not enough," Amelia* said. 
While Lincoln receives both praise and backlash for this decision, it is causing many Nebraskans to look closer to home and evaluate their own situation. At Elkhorn, many students who identify as queer said it's difficult for them to understand why people they've gone to school with their entire lives view them differently because of their identity. 
"It's weird because, when I'm with my friends, I can make jokes about my identity and we can laugh about it because I know that, ultimately, they love and accept me for who I am," Jordan* said. "But, when I leave that little bubble and go to the outside world, things are a lot different because you really don't know where those around you stand." 
"I've definitely dealt with my fair share of people saying the f-slur and calling things "gay" when they're not. I can ask people to stop, and usually, they stop around me, but I can guess that they're still saying it behind my back, and that really sucks," sophomore Buck Muhlbauer, a bisexual male, said. 
In an attempt to create a more welcoming environment at EHS, alum Dylan Miettinen (class of 2017) spearheaded the creation of the Tolerance, Equality, and Acceptance club during the 2015-16 school year, which was supposed to create a safe space for all students and had goals to educate others about the experiences of minorities within the school. 
 "Our mission, which was "to create a judgment-free, safe environment for all students (regardless of gender expression or sexuality), to develop a sense of school-wide acceptance, and to promote tolerance and acceptance of difference," Miettinen said. "Sadly, it was seen as a threat to the status quo."
Only a few years after it was created, however, the club began to fall apart. 
As the years passed and its creators graduated, the student-led club began to dissipate. Because it is not a school-led club, its faculty advisor, Diane Schieffer is not allowed to initiate any meetings—that must be done by students. The result has been limited meetings and the lack of a place for queer students to have a judgement-free space. The fight to create it was hard fought and hard won, but it's been difficult to maintain with a lack of support. 
"What kind of message does that send to a ton of our kids?" Schieffer said. 
Within the past few weeks, signs have cropped up on walls across the school advertising the new, student-initiated Be The Change club. While this club aims to create a place for students to be themselves, like TEA Club, it has not gone without its share of backlash, even in its youth. 
"I didn't start the club with the intention to have conflict," creator and sophomore Danah Alounk said. "My intention was to educate people. I knew I was going to get backlash in the first place, but sometimes it's hard to comprehend how rude some people are."
With limited outward support for the LGBT+ community in Elkhorn, many students remain closeted out of nervousness or fear of what their community will think. 
"[If I were out,] I think that there would be, in the very best case, discomfort from people in regards to my sexual orientation. I don't think that I would be bullied or receive explicit hate from people, but I do think that there would be stereotypes or hesitancy in regards to me," Olivia* said. 
Many report feeling a distinct divide between students who would be accepting and those who they feel would be hostile. 
"You can almost look at everybody and tell; you're either a part of the community or vehemently against it. It feels like there's only a few people in between," Muhlbauer said. "So many people are angry about us existing, you see a lot of separation between [people] that are friendly and those that aren't."
"It's very divided," Amelia* said. 
There are plenty of students around Elkhorn High School who openly support the community. Sophomore Grace Swanson advocates for human rights, including LGBT+ equality, inside and outside of school. "I just think everyone should be equal. It's none of my business who you love," Swanson said.
Lily*, another openly supportive student, uses social media to advocate for the LGBT+ community. Many students post their ideas on Instagram, Twitter, and Snapchat hoping to educate their followers on important topics.
"I am openly supportive because I think it's important that people in the community are able to see there are people that support them and accept them. I advocate through social media mostly because it's the easiest, most accessible way to show my thoughts," Lily* said.
Though there are students like Swanson and Lily* who openly advocate for gay rights, many do not. Every day, there are LGBT+ students who feel detached from others in hallways and in classrooms. Many students commented that, although teachers seem mostly welcoming, coming out is still a big struggle because of the adversity they would expect to face from other students. 
"I think Elkhorn tries to appear welcoming, and, of course, you're not going to face anything from teachers, but . . . we have a pretty large base of students that can be straight up hateful for no reason. In theory, Elkhorn would be welcoming, but at its core and as a student, it's not as welcoming as it should be," Logan*, a bisexual transgender male, said. 
However, there are teachers who also openly support the LGBT+ community and stick up for students who are mistreated, and many members of the community are thankful to have them in the building.
"Almost all of my teachers asked me if I wanted to be called by a different name before I even asked them myself, so that's good. All of my teachers respect my pronouns," Logan* said.
While many students, both out and closeted, have had both positive and negative experiences with classmates regarding their opinions on and places within the LGBT+ community, it is important for those who are questioning to realize that there are people on their side who are willing to help and protect them. 
"To anyone who reads this who's having trouble with their identity, it takes time to figure it out, and it's going to be okay because, hopefully, you're surrounded by people who are accepting and loving. If they aren't, there's people at this school who are. Find those people and stick with them," Amelia* said.
About the Contributor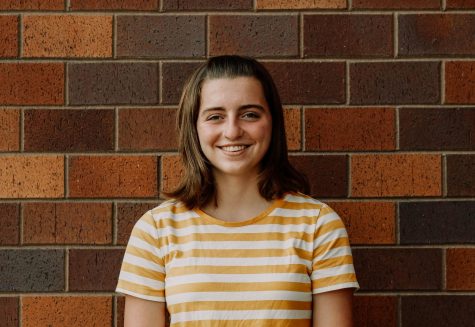 Isabel Johnson, Design Editor
Isabel is our Design Editor. She is a senior and a second-year reporter at the Antler Express.