Bitter or Sweet?
Olivia Rodrigo's debut album, SOUR, tops the music charts, but is it worth the hype?
June 7, 2021
On May 21, 2021, Olivia Rodrigo released her debut album SOUR, the first of many accomplishments for this young artist. Previously, she released three singles that appeared on the album: "drivers license," "deja vu," and "good 4 u." Rodrigo's first single, "drivers license," stayed at number one on the Hot 100 for eight weeks, the longest of any song so far this year; "good 4 u" also hit number one. Her second single, "deja vu," reached number eight. SOUR is the first debut album to have two number one singles on the Billboard Global 200 and is the first debut album of any female artist to have two songs on the Hot 100 charts. According to Spotify, SOUR had the most opening week streams of any female artist's album with roughly 385 million streams. Not to mention, she did this all at 18 years old.
With so many broken records, is SOUR as good as the reviews are saying? Here is a brutally honest review of my thoughts on each song off the album.
"brutal:" Rating 10/10
I absolutely love this song and have had it on repeat for the past week. When I first listened to it, I was blown away because the intro caught me off guard in a good way. Having this as the first song on the album was a stunning and well-thought-out stylistic choice. It grabs the attention of the fans because of its rock feel and interests them in the rest of the album. The sudden switch from pop/rock to soft near the end of the song was pure perfection. Rodrigo knows how to keep her audience engaged, and it shows.
"traitor:" Rating 3/10
I might get hate for this, but I honestly don't understand the hype this song is receiving. It sounds like a Tate McRae song to me, which is not the type of music I enjoy. This song is too slow and sad for me to sing in the car. My biggest complaint from this song is how Rodrigo sings "wichoo" instead of "with you." I don't know if that is just my inner choir kid coming out, but it is bothersome. Though I won't be participating in "traitor" worship on TikTok, I will say that the lyrics are well-written. I can hear emotion through her words, which is very impressive for a young artist. 
"drivers license:" Rating 6.5/10
This song is a classic in a good and bad way. I definitely had my fair share of screaming this song on the way to school, but now I have grown out of it. Don't get me wrong, it is musically wonderful, but it's old. Because she released it so early, back in January, the original spark for the song has died out. However, her voice fits this song perfectly because she has a higher range that sounds like it's floating. 
"1 step forward, 3 steps back:" Rating 8/10
Before I finished the song, I already knew I would listen to it on repeat because of its tie to Taylor Swift's "New Year's Day." I am still in awe at how she took Swift's melody and turned it into a completely different song. If this doesn't show that she's a pro songwriter, then I don't know what will. Her voice flows beautifully throughout this song. It is very soothing and on my rainy day Spotify playlist.
"deja vu:" Rating 9/10
This song is very different, but I am in love with it nonetheless. It has a funky vibe to it that is uncommon with other artists that top the charts today, which is why most people love it. The little laughs in the background towards the beginning of the song are very amusing to me because I love how petty it sounds. I did take off a point, though, because of the symmetry trend on TikTok and the mention of Glee—Will Schuester scares me. 
"good 4 u:" Rating 10/10
To say I'm obsessed with this song would be an understatement. I have not stopped listening to it since the music video dropped, which is the best video any artist has made recently. It brought back a nostalgic 2000s feel that makes me want to put on lipgloss and butterfly clips. The one bad thing you'll ever hear me say about this song is the ending felt abrupt. I didn't fully realize it was the end of the song when I first listened to it, but the guitar and upbeat music make up for that. 
"enough for you:" Rating 4/10
This isn't a song I would deliberately search to listen to. It is, again, a slow and sad song. Yes, her voice is pretty, but this song is bland to me. I think she could've chosen a better song to put on the album.
"happier:" Rating 6/10
The most interesting part of this song is the guitar about halfway into the song, but it is still average. I like the fact that she didn't degrade the other girl she mentions and how the music goes away when she sings "don't be happier." A few points were subtracted because the music sounds like "Girl Crush" by Little Big Town to me.
"jealousy, jealousy:" Rating 8/10
I'm warning you now that this song will get stuck in your head. I appreciate how this song is different from the other slow songs on the album and how it changes a bit towards the end, but I wish there were more lyrics because the chorus is repeated a lot. To me, that seems that this song was just a filler or a "we need one more song for this album." 
"favorite crime:" Rating 8.5/10
This song is getting a lot of love on TikTok, which I understand. The lyrics are written so well that you can feel her pain but in a good way. I think this song could have been more exciting if it had a faster rhythm and was more upbeat. 
"hope ur ok:" Rating 8/10
I like how Rodrigo talked about two different people in this song because it reminded me of Conan Gray's song "The Story," and their background musics sound similar. This song has a deeper meaning than the other songs because she sings about many struggles kids face that aren't always talked about. However, it's another slow song that isn't one you can scream in your car. 
Olivia Rodrigo is a lyrical genius, just like her two most compared artists, Taylor Swift and Lorde. If you have been debating whether or not to listen to the album, I recommend all 34 minutes and 46 seconds; you will not regret the experience. The one thing I would change about this album is the ratio of slow/sad songs to upbeat ones. There have been rumors about a sister album titled "Sweet" with songs mentioning the happier parts of Rodrigo's past relationships, so I'm hoping there will be faster songs on there. Anyway, go stream SOUR!
About the Writer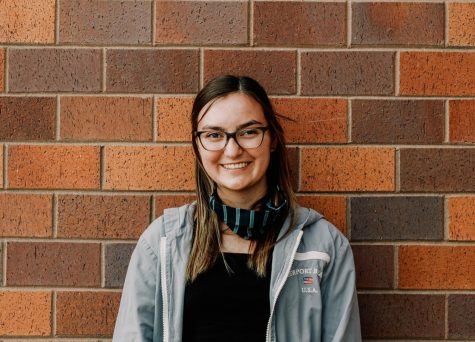 Cassy Limley, Managing Editor
Cassy is our Managing Editor. She is a junior and second-year reporter at the Antler Express.