Fashionism is Alive in America
At the Met Gala, the attendees dress according to a "Lexicon of Fashion."
October 11, 2021
The annual Met Gala was held this year in New York City at the Metropolitan Museum of Art. Top celebrities dressed both fashionably and unfashionably for this year's theme "In America: A Lexicon of Fashion." This year's theme is to honor the 75th anniversary of the museum's costume institution. The people invited to the Met Gala were supposed to dress according to American-based designers. Some of the celebrities met this expectation and some of them were way off. 
Timothée Chalamet, Billie Eilish, Kim Kardashian West, Jennifer Lopez, Addison Rae, Lil Nas X, Emma Chamberlain, Saweetie, Megan Thee Stallion, Kim Petras, Simone Biles, and Olivia Rodrigo were some of the celebrities that attended the Met Gala. 
Timothée Chalamet appeared at the 2021 Met Gala for the first time, wearing a white Haider Ackermann suit. Emma Chamberlain wore a dress by Louis Vuitton. Lil Nas X wore Versace, in a gold armor suit. Saweetie wore a sequined Christian Cowan dress. Addison Rae wore a Vintage Tom Ford dress from Gucci. Megan Thee Stallion wore a baby pink coach dress. Kim Petras wore a sculptural horse head gown. Billie Eilish wore a peach-colored Oscar de la Renta dress. Simone Biles wore a 88 pound Area dress. Olivia Rodrigo wore an all-black Saint Laurant bodysuit. Kim Kardashian West wore a stark black Balenciaga couture gown with a matching mask and train. Jennifer Lopez wore a Ralph Lauren plunge dress with a high leg slit and accented with a cowboy hat. 
The most interesting outfits from that night were Kim Kardashian's all-black statement, Kim Petras horse gown, Jennifer Lopez' revealing dress, and Simone Biles 88 pound dress.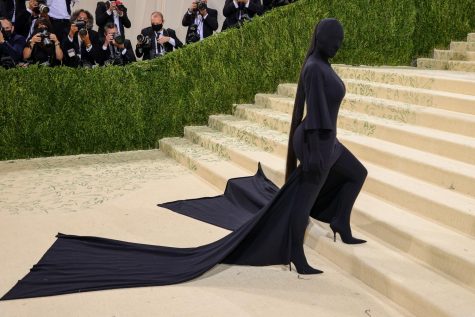 These were the most interesting outfits because Kim Kardashian's dress was all black and confused many people when she arrived at the event. It was confusing for some people because she was also wearing a black mask, where you can't see any of her face.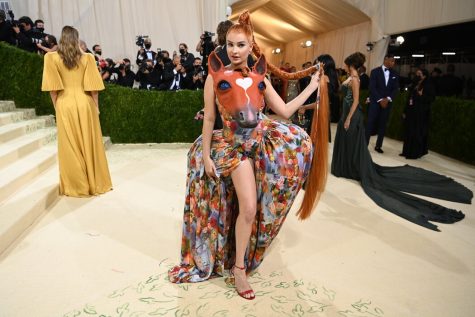 Kim Petras was probably the most interesting dress that was at the Met Gala. She wore a floral printed dress with a giant horse head connected to her upper body. Her hair was also all the way to the ground, which added more emphasis to the outfit.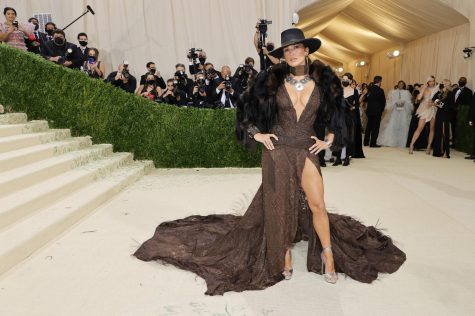 Jeniffer Lopez wore a revealing dress to this year's Met Gala. As we all know, she can pull it off. She wore a leather Ralph Lauren dress with a very deep v-neck. She also had a high leg slit in the dress. To accent the dress she wore a chunky necklace, cowboy hat, and a faux animal fur overthrow.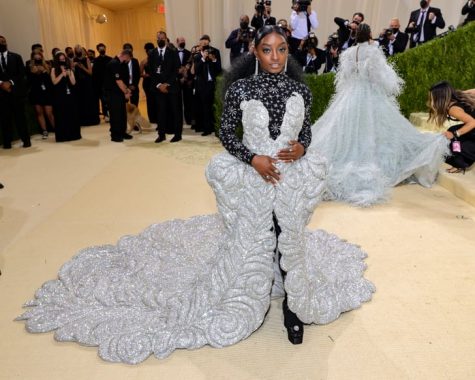 Simone Biles' dress was gorgeous and all, but it weighed 80 pounds. The American gymnast wore a black bodysuit with stars on it, under a silver train gown that weighed 80 pounds. This is interesting because most people wouldn't want to carry an 80-pound dress on them for a while. 
Some people have said that Addison Rae doesn't deserve to be at the Met Gala just because she was in one movie and that she is meant to be a tik toker, not a celebrity. People were heated about this because Zendaya wasn't invited to the Met Gala, and she is one of the best actresses and celebrities out there.
The overall rating of the Met Gala and the outfits is an 8/10. Most of the celebrities met the theme this year, and some of them were just plain out confusing.