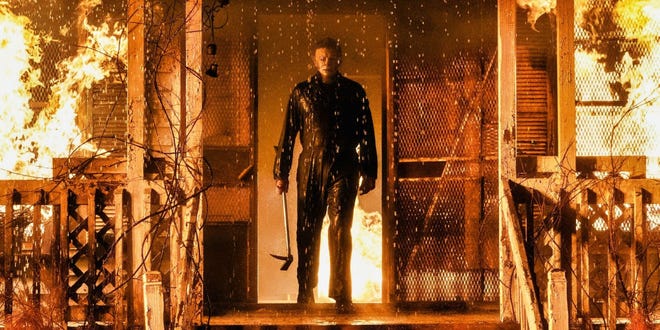 Halloween is a Killer
The latest addition to the series is one of the best yet.
November 15, 2021
Whether you enjoy rom-com, thriller, action, mystery, comedy, or horror, everyone can agree that the Halloween movie series puts any one on the edge of their seat. One of the most iconic and original horror movie series of all time is Universal Pictures' Halloween. The newest of this series, Halloween Kills, was released on October 25, 2021. 
In the film that sets the scene for horror movies to come, Michael Myers (Nick Castle) performs a massacre on the town and kills his older sister in Haddonfield in 1978. Throughout the movies, Myers goes on rants of killing. In the new movie, Myers returns to Haddonfield in 2018 and goes on another killing spree to try and kill his other sister, Laurie Strode (Jamie Lee Curtis). 
The main characters in Halloween Kills are Michael Myers (Nick Castle), Laurie Strode (Jamie Lee Curtis), Cameron Elam (Dylan Arnold), Karen Nelson (Judy Greer), Tommy Doyle (Anthony Michael Hall), and Sheriff Leigh Brackett (Charles Cyphers). Personally, the first movie was terrible because of the acting, sounds, and special effects. This is probably because the film was made in the 1970s.  They have obviously gotten better with the special effects and acting over time. Jamie Lee Curtis' acting skills have improved since 1978. Curtis starred in six of the 11 movies in this series, and she is planning on being in the new film Halloween Ends in October of 2022. 
The special effects are very detailed and look realistic. I recently got into horror movies, so I don't know much about them, but I know that I hate cheesy gore scenes. The very first movie in this series is so cheesy that I laughed at some of the scenes. I also liked the cast's performances in the new movie. Their screaming, crying, and dying is just so realistic that I can't take my eyes off the screen. The house fire scene, where Laurie Strode tried killing Michael Myers, towards the middle of the movie was my favorite scene of all time. I was on the edge of my seat the whole entire time. 
After I watched the movie, the line between fiction and reality was blurred. On Halloween night, I went trick-or-treating with my family and saw a  man in a  Michael Myers costume. He even had the same body shape as the real Michael Myers having broad shoulders and being very tall, so it startled me. I started walking slowly away, but when I noticed him walking towards me, I started running the second I looked back, he was chasing me. At the time, I didn't comprehend the fact that it was obviously someone dressed up as this movie character, but now I look back and realize that it was fake. Watching these movies the day before Halloween could make any teenage girl scared out of their mind, but adding someone dressed as Michael Myers chasing them on top of that makes it worse. One thing I learned from horror movies is to always be aware of your surroundings. 
This movie is rated R, so it most likely targets an audience 17 and older. I definitely would not recommend this to children under the age of 12. Although there is no nudity in this film, there is a lot of gore, so I would not recommend it to younger audiences. Overall, this movie is very excellent, and I would highly recommend it.
Rating:

About the Contributor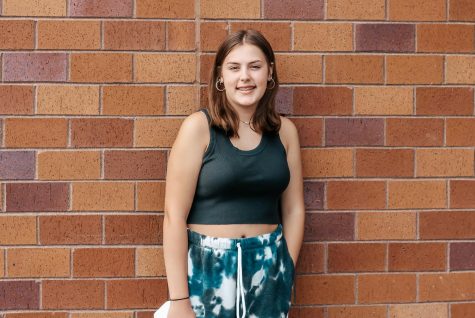 Bri Moore, Reporter
Bri is a sophomore and a first-year reporter for the Antler Express.