Grammy's Fan Favs
My favorite and least favorite red carpet Grammy's looks.
On Sunday, February 5th, 2023, the 65th Annual Grammy Awards were held. There were over 100 designer collections making their way onto the red carpet. During the event, there were some really elegant outfits and some not-so-favorite ones. Five of my favorite looks that were presented came from Jennifer Lopez, Cardi B, Paris Hilton, Adrienne Bailon-Houghton, and Marco Antonio Solis. A few of my least favorite looks of the night came from Walter Russell III, Nancy Wilson, Tiara Thomas, Alex Ritchie, and Cecile McLorin Salvant.
Jennifer Lopez:
Jennifer Lopez's dress for this night was one of my all-time favorites. With the dress being Gucci and her jewelry being Bulgari, it just made Lopez look so much better. I absolutely love the long fluffy trail behind her and the silver sequins on the actual dress. I also love how her handbag matches the silver trails on her dress to tie the whole look together.
Cardi B:
Cardi B's Gaurav Gupta dress was also one of my favorites. I feel like she comes to these events and always gives it her all. I am so in love with the color of this dress and the wrap around it on her waist. Again, like Jennifer Lopez's dress, I adore the train on this dress. One thing that made this dress really stand out from my other favorites is the shoulder/headpiece. This is a very unique piece to the dress and adds so much more enthusiasm to it.
Adrienne Bailon:
For Adrienne Bailon's dress, I feel it was simple yet good. I love the simple dress but the not-so-simple chest piece. Again, I love how Bailon tied in the silver on her chest with her handpiece. One thing I also liked about her dress was the mesh sleeves. This adds a lot of dimension to this look; however, it is a simple look for the Grammys.
Paris Hilton:
Finally, one of my favorite celebrities of all time, Paris Hilton. She came to this event and gave nothing but shine. HIlton's dress was a beautiful, silver, strapless dress from Celine. Again, so simple but so majestic. I love the unique chest cutout. It makes it not just a plain silver dress. One thing I enjoyed about her look was her hair. I like that her hair was just an everyday hairstyle, which proves Hilton can make anything a red carpet moment.
Marco Antonis Solis:
Surprisingly, one of the only men who gave it their all was Marco Antonio Solis. I am not familiar with this man; however, I did really enjoy his suit. His jacket was so pretty, and I loved the pink with black details. Even though he is wearing plain pants, his coat makes up for it, which makes the whole look a 10/10. For men at red carpet events like this, most of the time, they either wear a black and white suit or some exotic piece that is very odd. However, with this statement piece, Marco showed up with the prettiest color of pink while making it to my favorites of the night.
Nancy Wilson:
Now, my least favorite looks. First is Nancy Wilson. When I first saw this, I was just in complete confusion. Personally, I like the color of the boots; however, the knee-high magenta boots with a yellow dress was not a good choice. The main thing on why this look was one of my least favorites was the color scheme. Even though there is some purple in the shirt to match the boots, it just does not go together. Next is Tiara Thomas. For this look, it was not at the complete bottom of my list. However, it was not at the top of my list either. I did not really like how she was barely wearing an outfit. Although I like the sparkles, this outfit just looks odd and is not in my top five favorites.
Alex Ritchie:
Now for Alex Ritchie. Again, I was confused about this look. I am not a big fan of the long white blazer with the plaid. It is a good thing the whole look matches, but this is not a really good red carpet look. It is not very outstanding, shiny, and bold like most looks are. Cecile Mclorin Salvant showed up to the Grammy's thinking she would give it her all while impressing everyone, but for me, I was the least impressed. This dress was just a plain pink ruffle dress with gold clog shoes and a giant yellow hat. The shoes and the hat do not really go with the dress, and it is not necessarily a good red carpet look.
Walter Russell III:
Last is Walter Russell III with his yellow suit. I think yellow is not the worst in the world. However, I do not personally like the blue pop of color with it. Because the bowtie and the shoes were two different shades of blue, they do not match very well. Overall, this would most likely be more in my least favorites than in my top five favorites, including Jennifer Lopez, Cardi B, Paris Hilton, Adrienne Bailon-Houghton, and Marco Antonio Solis.
Your donation will support the student journalists of Elkhorn High School. Your contribution will allow us to purchase equipment and cover our annual website hosting costs.
About the Contributor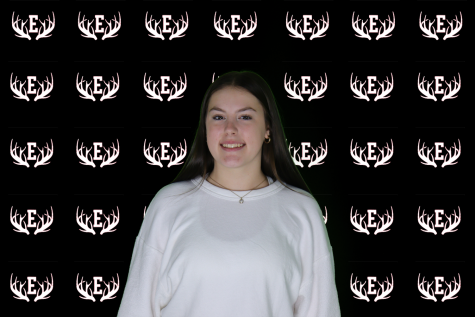 Bri Moore, Social Media Division
Bri is a former staff member of the Antler Express.