Bumping to a Successful Season
After an unsuccessful season last year, how will the Antler volleyball team overcome it?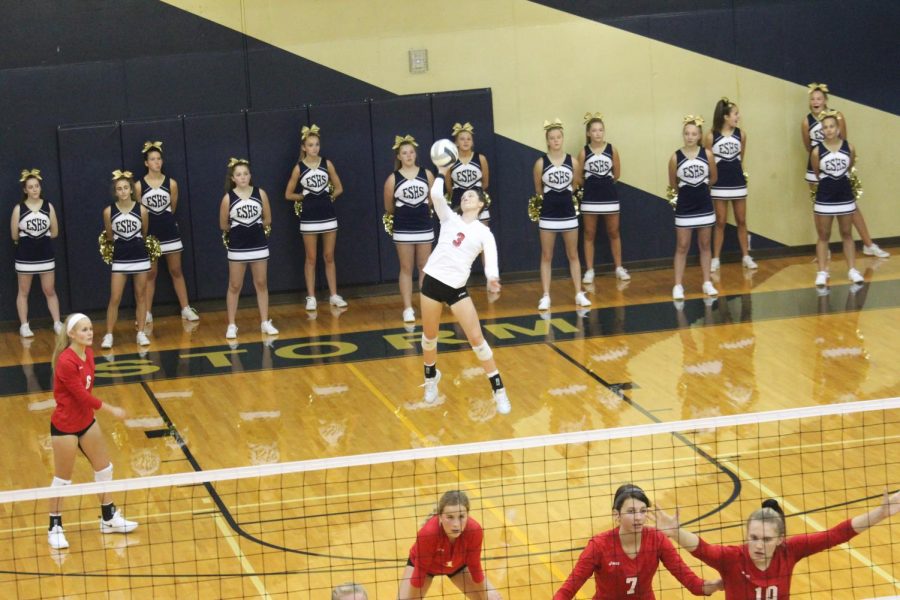 If people were asked about antler volleyball last year, most likely they would say not many positive things due to the team not having the best season. They went 15-16 with 4 out of 9 home games won and lost to Skutt in the first subdistrict game ending their season. They are trying to push that aside by having a better season this year and making it to the state tournament. As of now the team is 12-8 and seems to be confident in their performance. They won the 2nd place in a tournament at Beatrice and 6th place at Pius.
Sophomore, Ray Joens, being one of the young varsity players on the team, believes she is performing well in practices and games. "I bring a lot of good energy to the core and I bring all the fun plays." In the team's first tournament at Beatrice, Joens lead the team in blocks. Compared to last year, there seems to be a change outside the court and teammates bonding with each other. "We are used to each other more and we're more comfortable with each other. We kind of look more as a team."
Senior captains Maggie McElhose and Dordt College commit Megan Raszler to take huge roles upon the team. "I'm just trying to stay super positive even when it's not going as good as we hoped, which is helping the team out because then we are getting back to the rhythm faster and be able to get out of the hole we've dug ourselves in," says Raszler.
"I've been focusing on trying to be a leader for the younger players because our team is still really young, and being able to teach them to be leaders when they're upperclassmen," says McElhose. According to them, the team's best games so far are Duchesne, Aurora, and Grand Island Northwest. In order to have a successful and fun season, the team set up some goals for the seasons. Making it to state is one of them, plus playing with specific stats in games. "Our team goals are to have a 90% serving efficiency and pass of 2.3 or better in serve receive in every game," says McElhose. For those who don't know what serve receive is, it is when the team serves the volleyball to the opposing team and the team receiving the volleyball gets in position to bump it back in an attempt to score. With more games coming up in this journey, the antlers must prove themselves that they are the best and that they are better compared to last year.