Out Of This (Astro) World
The Astroworld concert astonishingly surpassed its high expectations.
Travis Scott's Astroworld concert was surprisingly the best concert I have ever been to. Even though it was sad that Trippie decided to drop out of the tour over production tours, I still had a blast. honestly bought my ticket mostly for Trippie and Gunna, two up and coming rappers, but I was actually greatly impressed.
My friends and I got General Admission tickets into the pit, which was right in front of the stage, and we got there early so we can be very close to the front of the stage. It was amazing. The bass was so loud that powerful that we could feel every organ in our bodies vibrating throughout the entire concert.
Sheck Wes, the opener and another rapper but less popular, did an awesome job of everyone up at the very beginning of the concert. Although I did not know many of his songs, I still got hyped. His visual, similar to  Gunna's, was not very good. They were only allowed a small video screen that played the same basic video visual of animated videos throughout their performances. I thought Gunna's performance was better, but solely because I knew more of his songs. I was able to scream the lyrics of his songs with everyone else in the arena.
When Travis went on stage, he was introduced by a video montage on a huge circular screen. It was so cool.
Travis was on stage for about an hour and 20 minutes, and there was never a dull moment. There were constant fireworks, flames, and smoke, and Travis eventually rode on a mini roller coaster from one side of the arena to the other. He had a loopty-loop roller ride, similar to one seen at state and county fairs, going at the beginning of his performance and he did collaborate with Gunna for a song or two. The only downside of the concert was that in the pit, there were so many people crammed into that space that you were neck to neck with everyone around you, and it eventually got really hot next to all the dancing and screaming fans.
Other than that minor detail, I thought that Travis Scott was the best concert that I have ever gone to, and the whole production was just amazing.
About the Contributor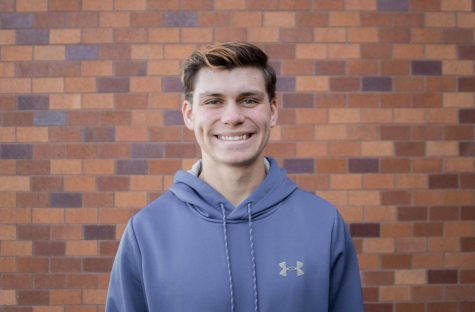 Ethan Webster, Editor
Ethan is a senior and a second-year reporter at the Antler Express. He is our STRIV manager!