Antler Footballs Final Game Ends in Heartbreak
The Elkhorn Antlers close the season on a disappointing note as they are unable to hold onto their lead and finish with a win.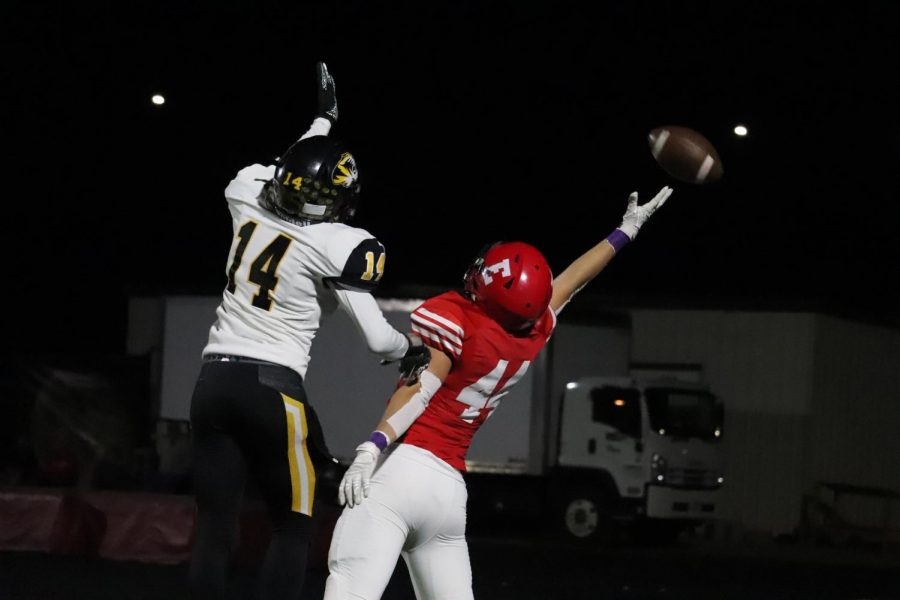 In the final game of the 2019  regular season, the Elkhorn Antlers faced up against the Fremont Tigers. Although neither team was fighting for a playoff spot, both were still fighting for a 4-5 finish and a strong end to their season. The Antlers started out extremely strong, forcing a Fremont punt. They then capped off a 10 play drive with a seven yard touchdown pass to Drew Christo, who made his comback after missing a majority of the season. However, the Tigers responded with quick touchdown taken in from 20 yards out by Micah Moore, tying the game up at seven a piece. Elkorn came back out on offense and went 69 yards in two plays to regain control. Soon after, the Antlers forced a fumble that they recovered at the 22 yardline. Unable to move the ball, the Antlers attempted a field goal on 4th down but it went wide left and gave the Tigers the ball back. Fremont would seemingly commit another turnover, but a pass interference called back the interception. Fremont would end up scoring on the drive with a 34 yard pass to even up the score. The Antlers came back determined, and after 15 plays took back the lead, going into the half with a 21-14 lead. Elkhorn came back out looking to blow the game away, but a mishandled snap led to a fumble recovery for Fremont at the Antler 40. Multiple possesions for each team suffered to 3 and outs, and the game was still at 21-14 towards the end of the third. Fremont had a 4th and 1 at about the 41 yardline. They would run a flea flicker that took the Antler defense by surprise and allowed for a 41 yard touchdown pass to tie the game. The Antlers tried to respond, but penalties put them into a 2nd and 29 that was far too dificult for the Antlers, leading to a punt. With just under 5 minutes in the game, Fremont came out and completed a 37 yard touchdown pass for the final score of the game. The Antlers had a chance to come back down and score but were unable to capitalize. The final score would be 28-21 in favor of the Tigers. Though not an ideal ending for the seniors, these competitive games give a lot of excitement for next years Antler football as Elkhorn moves back to Class B.