Conan Gray Takes Flight with Kid Krow
Conan Gray released his debut album, Kid Krow in late March. Full of ups and downs, Gray's music takes listeners on an emotional rollercoaster.
     On March 20, 2020, Conan Gray released his debut album called Kid Krow. This album has been long awaited by fans from the start. Conan Gray started his career on YouTube, posting cover songs and originals in 2013. Years later, he is now signed with Republic Records, has released multiple singles, and an EP called Sunset Season in 2018. All of this led up to his debut album Kid Krow.
     The album starts off with "Comfort Crowd", a fan favorite. The vocals in this song are simply angelic yet the deeper meaning hits fans. It is an incredible opener to this album. The next track, "Wish You Were Sober", is a playful, upbeat jam. This is the song that'd be played in a coming of age film.  The third song, "Maniac" is an upbeat pop song, which gained popularity when it blew up on TikTok. It continues to grow bigger daily, and is truly one of the most high energy songs of Kid Krow. 
     In this album, Conan Gray features two interludes, the first called "(Online Love)". This delightful, acoustic piece has a little chitter-chatter in the background yet still shows his remarkable vocals. The fifth track, "Checkmate" is chaotic and charisma filled and takes a whole new spin on a typical dating story. "The Cut That Always Bleeds" follows, and is a beautiful record that features stunning harmonies with a deeper meaning, including some gory lyrics. This song is no doubt a melodramatic break-up ballad. Following that, "Fight or Flight" has a rock genre feel to it, with booming drums and guitars. Vocally and instrumentally, it is a powerful song.  
     The eighth track, "Affluenza", makes jaws drop to the ground. It is a slow, almost cocky record about how wealth affects people.  The second interlude featured on the album is "(Can We Be Friends)". It is another quick song with an echoey and like "(Online Love)", an acoustic style.  The tenth track, "Heather" starts as an acoustic but gradually becomes a moving orchestral piece. This track is an emotional ballad which Gray's voice executes heavenly. Conan Gray is a big fan of Taylor Swift, and it is clear that this record was inspired by a few of her older songs. Next in line, "Little League" gives fans the nostalgia of his childhood. This song has the same high energy as "Maniac" and "Wish You Were Sober," yet gives the feeling of joys being a kid. 
     Kid Krow ends with, "The Story", a tear jerking yet stunning record. This song is all about Gray's life before fame.  It ends the album amazingly with the lyrics, "It's not the end of the story." Overall, this album is a complete masterpiece. Conan Gray surely held nothing back while delivering this emotional and beautifully written album. He is able to mix up genres beautifully with ease and that is shown throughout the entire project. This album proves that even though Kid Krow has been released, it's not the end of his story.
About the Writer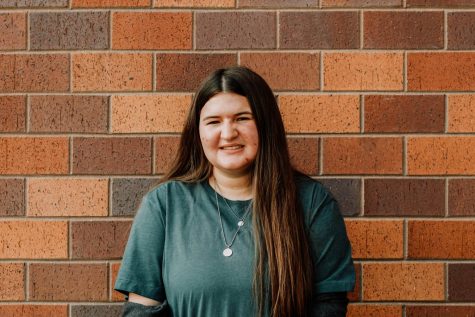 Kiley Keith, Reporter
Kiley Keith is a senior and a second-year reporter on the Antler Express.