COVID-19 & Fall Sports
COVID-19 has affected fall sports at EHS immensely, but players continue to try and stay safe and hopeful about their seasons.
Fall sports at Elkhorn High School are looking much different this year than in previous years. Due to the COVID-19 virus, these athletes have not only had to sacrifice their normal school routine, but their athletic activities also. Although these student's lives have turned upside down, they have ways to stay positive and optimistic during this time.
Football is one of the most involved sports at Elkhorn. Each game not only includes the team itself, but the dance team, cheerleaders, and all of the band. Only immediate family members can attend the games this year, and this has caused quite an upset with not only the fans, but the players. Senior quarterback Grant Gutschow expresses his feelings about the absence of fans: "It's very quiet in the stands, and doesn't get us as anxious or as pumped as it normally would."
Not only are fans not allowed to attend, but college scouts are not able to make it to the games, either. "College scouts and coaches are not allowed to come to our games which is very difficult for future college commitments. We did get to do some camps in the summer, but only when the precautions for COVID-19 were not as severe," Gutschow said .
John Bacus, Elkhorn High coach of 44 years, has never had a year like this one. "I was super excited that we would finally get to play, and I thought we would be pretty good. We were concerned about depth and losing lots of kids to North, but we have a good senior class." He is ready to continue playing this sport, and hopes that everyone can stay safe for the remainder of the year.
Aside from football, many other sports were heavily affected by this virus. The boys' tennis coach, Jon Holtz, explains that they, the tennis team, were already worried about this season because of the girls' season being cancelled in the spring. "As far as our team, I knew coming in we would have lots of positions to fill. I knew we would need to have some seniors step into those spots and play varsity tennis," Holtz said. The growth of these players this season has contributed to the optimism and overall energy of the season. "We have grown with every match we have played. I have seen guys being better teammates and players, and that is exactly what I wanted to see. I wanted these guys to rally around each other and go on the courts and give 110%. We started the year (every year) with some really hard competition. It can be demoralizing sometimes, but it will always be about how we bounce back after some adversity."
Grace Ferguson, golf senior, has also commented about how hopeful she is for this season. "I was a little nervous coming into this year, but over the summer it went really well so I was excited about getting back." The golf team has had a great couple of tournaments so far, and can't wait for the future because of how far they have come.
Addie Thomas and Jaycee Schutte of volleyball and softball are very excited to continue through this time and work harder each day. Both girls agreed that they did lose a good amount of members on their teams, because of our recent split of the school, but have enough talented players that can still impact the team immensely. Their seasons have been going well so far, with volleyball's first game/victory against Elkhorn North, and softball running 5-5
Cross country's season has also gone really well. Many runners are running faster than they were last year, and they hope to keep improving as the season goes on. "My hope for our future is that we are able to continue to practice and run in meets for the rest of the season. That no one will have to quarantine or sit out any length of time as our season continues." Coach Spencer Stednitz said.
These athletes may be going through a crazy, rough, and frustrating time, but have been trying to see to the positives. The Elkhorn Antlers may be the strongest and most upbeat people around, so let's keep fighting.
About the Writer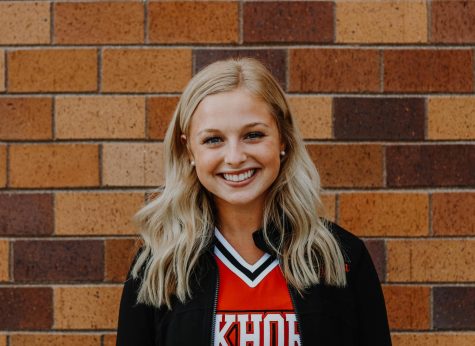 Anna Hart, Reporter
Anna is a former staff member at the Antler Express.