Schieffer's Struggle
English teacher Diane Schieffer explains her strange and intense journey with a broken wrist.
Miss Schieffer, one of Elkhorn's hardworking English teachers, has been going through quite a trek with her arm this year. It started with her new routine of taking daily walks or jogs to stay healthy and fit during quarantine. She was about 3 blocks away from her house when she hit a lip on the sidewalk, and fell onto her left arm. Her left arm felt completely fine in the moment, and she had some cuts on her other hand.
"I do admit I am a faller and a klutz," Schieffer said. As the day went on, she was in constant pain and could not do many of her normal tasks. She was convinced that it was just a sprain because of the absence of swelling. She was bandaged up by Elkhorn's school trainer, and kept going on with her life.
While still bearing the excruciating pain, she made a simple Google search about the possible dangers of never correctly treating a broken wrist. After reading that her bone could possibly die if it was left untreated, Schieffer made a call to the doctor's office. At Ortho Nebraska, the medical professionals immediately concluded that she had a broken wrist. The X-rays taken had shown signs of Avascular Necrosis, the death of bone tissue due to a lack of blood supply. They had an emergency procedure to scrape out all of the dead bone or gunk, and took a vascular bone graft for the sake of her radius. This was supposed to be the end of her painful journey, but it was only the beginning.
A month later for her follow-up appointment, a CT scan was needed to be taken due to something wrong with the healing of the bone. The CT scan showed that the radius was too weak and resulted in it pushing into the other bones. Schieffer was rushed into another emergency procedure.
Ten days following the second procedure, her wrist started to cause trouble again. The physicians that she was seeing had failed to tell her that she would have a dime sized pin sticking out of her arm. Where the pin site was, an infection had grown, and was the cause for her extreme pain.
Around a week later, a constant feeling of fire, swelling, and agony overcame Schieffer. She got into the doctor early in the morning, and they finally took out the pin that had caused so much trouble. Later that night while she was working at her desk, she felt something wrong. She was feeling extreme discomfort, and it only continued to get worse. This pain was much different than the problems occurring before. It took place in a different area than her incision or where the pin laid.
"Of all the pains that I have been having, this is by far the worst. It's just constant and 24/7," Schieffer said. She got into an emergency doctors appointment but left with no answers. They took an X-ray, took off her fresh cast that she got the day before, and took a test that she can only describe as a 1980's machine.
"I put my arm on it, and then the doctor maneuvers the machine to take on-the-spot X-rays," Schieffer said. The results of all of the scans only show positive growth and healing which leaves the doctors and Schieffer in disbelief. The most recent news is that it could possibly be the new cast that has been causing her the pain, but still concludes with the struggling English teacher.
Miss Schieffer is ready for this madness to be over. It is a very unique case and she has still not improved. She has been told by multiple people that her doctor doesn't know what he's doing, or she needs to get a second opinion. As of right now, she will continue with the same person because of how well he already knows her case, and how much she trusts him already. She could use all sorts of love, support, and laughs during this tough time. EHS loves you Schieffer!
About the Writer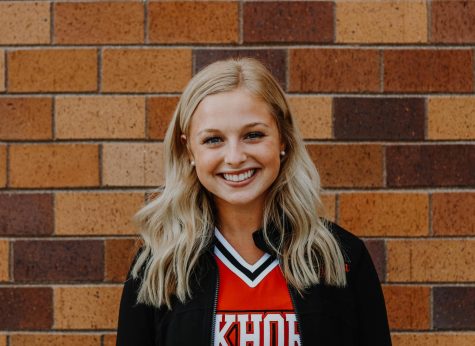 Anna Hart, Reporter
Anna is a senior and first-year reporter at the Antler Express.