Justice Review
Justin Bieber recently released his sixth studio album, which hit No. 1 on the Billboard 200 within one week.
"Injustice anywhere is a threat to justice everywhere." This statement, made by Martin Luther King Jr., is used for the opening of Justin Bieber's new album, Justice. It is his sixth complete album, which consists of 16 songs. However, only a week after the release of the album, Bieber added six additional songs on an extended version of the album titled Justice (Triple Chucks Deluxe). 
There are numerous features throughout the entirety of the album that bring new voices to the tracks. Bieber worked with 11 other artists to create the pieces that he wanted to release. These artists include Khalid in "As I Am," Lil Uzi Vert in "There She Go," Daniel Caesar in "Peaches," Jaden Smith in "I Can't Be Myself," and many more well known artists. 
Bieber flourished his creativity during his time in quarantine last year. He spent his time in lockdown focused on making music and spending intentional time with his wife, Hailey. Bieber made the decision to get rid of his phone and create a peaceful, yet productive, schedule. His days consisted of time in the studio, therapy, and time with his wife.
A major highlight of the Justice album was the true justice Bieber wanted to see in our world. The voice of MLK is heard several times in the album, and there is even an interlude in the middle of the album of an MLK speech. In this interlude, MLK is discussing the need to stand up for something great. "You died when you refused to stand up for justice," MLK said. 
Another theme of the album is Bieber's testimony of his transformation as a person. His faith is made clear in this album, and he uses his story as an encouragement to listeners. He addresses in "As I Am" that he made immeasurable mistakes throughout his lifetime, but God still used him. He also discusses his relationship with his wife and how it is a blessing that saved him, along with his faith. Bieber's reference to his marriage is seen as a symbol of all of his blessings in his life that he reasons for his positive transformation. Justice stands out from previous Bieber albums because he includes more personal lyrics that make the message more intimate.
The sound of the album is similar to his others with a general pop style. There is a balance and variety of slow tempo songs, as well as upbeat songs. The artists that Bieber included on the album are what make it stand out from his recent albums. A few of his songs on Justice even have a similar sound to his first few albums where his fame began. This gives listeners a feel-good sense while listening to his new music. Bieber's Justice album is a must have for any playlist this summer.
Highlights: "As I Am," "Die For You," "Peaches," "There She Go," "Ghost"
Overall: 9/10
About the Contributor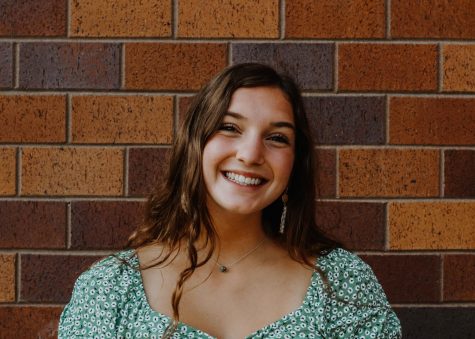 Emma Pietrocini, Reporter
Emma is the former Social Media Editor at the Antler Express.