The Future of Elkhorn Days
An old tradition in the Elkhorn community sparks new ones for the Elkhorn Dance Team.
Annually, Elkhorn hosts the Elkhorn Days Parade. People gather on the streets of downtown Elkhorn and watch different local businesses, groups, and other organizations walk down the streets and pass out goodies. This year, a new tradition was started. The Elkhorn High School Dance Team put together a Junior Antler group and taught kids a dance to perform while walking in the parade. 
Since this was the first year doing this, many dancers did not know what to expect, especially incoming freshmen, such as Evie Turner.
"The Elkhorn Days Parade was amazing," Turner said. "It was great to finally perform with the team and to help the younger girls as well."
The day before the parade, dance team members held a camp for the dancers. They split the Junior Antlers into groups and taught them the Elkhorn Fight Song and an easy, but fun, dance. Incoming sophomore Paulina Fomicheva recounts her two days with the Junior Antlers. 
"The first day of the clinic was more focused on learning the dances and getting the girls ready to walk in the parade, while the second one was more about having fun and showing friends and family what we worked on the first day," Fomicheva said. 
The only downside of the parade was the heat. Dancers and the kids had to wait for an hour in the blistering heat before they could walk. 
"My least favorite part of the parade was the heat," Turner said. "But other than that, everything else was great."
In the next few years, dancers hope to continue this tradition. They have ideas to make it even better for future dancers.
"In future parades, I am hoping to do more junior clinics, reach more kids, and raise spirit in my community," Fomicheva said.
About the Contributor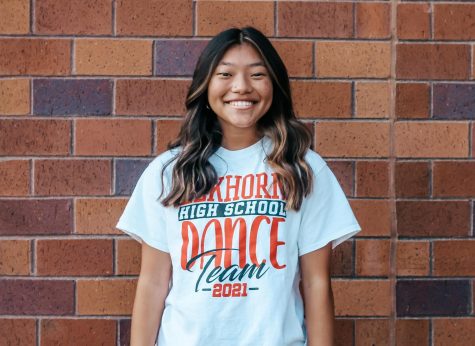 Riley Rasmussen, Video Editor
Riley is our Video Editor. She is a senior and third-year reporter at the Antler Express.