Chase and Jake Tuesday Take: 1-18-22
Chase and Jake argue if the firing of NFL head coaches were justified.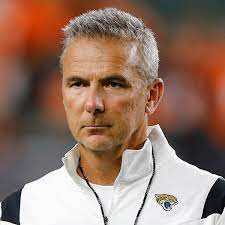 Most Deserved Firing-
Jake- There are multiple deserved firings. First, Jon Gruden definitely deserved to be fired due to his emails. Urban Meyer was a disappointment, and Matt Nagy had more ups and downs than a rollercoaster. The most deserved firing was Joe Judge from the New York Giants. During his time with the Giants, he went a whopping 10-23 over the course of 2 years. The Giants have been historically bad since they hired Ben McAdoo, and Joe Judge continued that trend, as during his time his offense managed to be second to last in both yards and touchdowns two years in a row. There are a handful of stats that demonstrate his ineptitude. The only major stats that are above average during his pitiful tenure are defensive stats from his first year, where his defense barely broke the top 15 in most categories. Above all the stats and off-field rhetoric about building a culture, the thing that demonstrates his tenure the most was one play call during week 18 versus the Washington Football Team. To set the scene, the clock reads in bright yellow numbers "5:01," it is 3rd and 9 from their 4-yard line. The offense breaks the huddle and jaunts up to the line of scrimmage, except to everyone's chagrin, the offense is lined up in goal-line formation. A formation only used when the offense only needs a couple of inches to score or get a first down. So on 3rd and 9, the offense lines up in this formation and runs a quarterback sneak, a play that averages 1.61 yards every time it is run. This horrendous play call did not work, and just like the Joe Judge era, it fell woefully short.
Side note: The WFT should be getting a new name this offseason, which will happen before Dan Snyder is forced to relinquish his team for being a racist, failing to maintain a safe stadium, and being an overall horrible owner.
Chase – There were plenty of firings this season that were mostly motivated through off-field activities that one may find through another news source. When it comes to football though, the most deserved firing was Matt Nagy. As soon as the Bears lost their best chance at their first Super Bowl since 2007 off the infamous Cody Parkey double-doink, the Bears community was unfortunately stuck alongside Nagy. Now, to be frank, the mediocrity of NVP Mitchell Trubisky did not help his resume at all when he would fall short against the New Orleans Saints in the wild card last year. But, the sentiments of back-to-back playoff appearances were the only thing Nagy had going for him. The Bears finished 27th in the league when it came to team offense and had to assimilate rookie quarterback Justin Fields into the rigors of the NFL. The rookie in him showed, as the Bears would finish 30th in passing. Andy Dalton would contribute to that stat though due to a brief hiatus by Fields in the middle of the season. Chicago grew in extreme frustration, and people watching Chicago grew extreme frustration stemming from Matt Nagy's team still occupying primetime game slots. When the Bears were on Sunday or Monday Night Football, I would end up going to bed much earlier. Nagy was a frustration and there just was not enough confidence that the Bears could stick with the elite teams. A record of 6-11 could not suffice any faith in a successful rebuild, so it was best for him to leave. Brian Flores knows a thing or two about rebuilding though, and the Bears were quick to pounce on an interview.
Worst Firing-
Jake- The most obvious answer here is Brian Flores. That Dolphin's team would have maybe won 4 games without him. He caused that team to win. Brian Flores could have been in the movie Draft Day, as he begged Chris Grier, Dolphins general manager, and got nothing. His team was horrendous but somehow managed to have back-to-back winning seasons. Whoever manages to high Brian Flores snatched an automatic win, as he is one of the best head coaches in the league, and it was an absolute mistake firing him. He went 19-14 over the past two seasons with; "way too old" Ryan Fitzpatrick, Tua "Turn the ball over" Tagovailoa, and Jacoby Brisset. This firing was a mistake, and I would not be surprised if we see Brian Flores in the playoffs next year. 
Chase – Brian Flores is a travesty of a firing that has shocked many people who pay attention in the NFL, including me. How does one even consider this? If you told me my coach went from 5-11 in one season to 10-6 and 9-8 in the others, I would be satisfied. The only justification is that Flores did not make the playoffs in any of those years. He had only been with the franchise for three years! For the people in the back: he had only been with the franchise for three years! The ball began to roll in Miami, and now another rebuild may have to happen at the cost of this firing. Adam Gase had just as long of a tenure as him, which is an insult on the behalf of Flores. Flores deserved another shot at claiming his first playoff spot. Not too many coaches in the NFL can even graze a winning record. Now someone has a steal of a hire at the head coaching spot on their hands.
Lighting Round
David Culley:
Jake- He had one year and dealt with starting Davis Mills after the franchise quarterback got caught up trying not to end up in prison. The Texans went 4-13, but two of those wins were against the Chargers and Titans. David Culley did better than you could ask for and firing him is questionable with everything he had to deal with.
Chase – Culley was brought into a franchise that was completely in shambles and Davis Mills took the reins on offense. He is probably the runner-up at the worst fire for me. Not even Andy Reid or Bill Belichick could have done better in Houston.
Joe Judge:
Jake- This guy deserved to be fired and there are no ands, ifs, or buts about it. I discussed him earlier.
Chase – A Giants' fans Twitter page would explain to you exactly how deserving Judge was of his termination. To put it lightly: it was shocking he was a coach this season.
Brian Flores:
Jake- I also discussed him earlier, certified great head coaching hire. 
Chase – Why Miami? Way to throw away an exceptional coach.
Mike Zimmer-
Jake- Mike Zimmer had a storied head coaching tenure, a story of mediocrity. His teams were always playoff-worthy and they could never reach the peak. Mike Zimmer deserved to be fired due to his recent failures, but he is going to end up being the new Defensive Coordinator for the Cowboys, and next year we will see his name tossed around for a new head coaching job, just like Dan Quinn. 
Chase – Zimmer has put Vikings fans into a cycle of solid regular seasons and disappointing playoff runs. The eight-season cycle has finally been broken. Like Jake said, he will more than likely be back in a head coaching position, but for now, he will serve as a coordinator elsewhere.
Matt Nagy:
Jake- What was this man doing? He had fewer quarterback-designed runs for Justin Fields than Joe Judge had for Daniel Jones. He managed to earn a Coach of the Year award but then failed to develop Mitch Trubisky. I will be sad to no longer watch him coach worse than Coach Klein (Waterboy coach). He deserved to be fired, and so did Ryan Pace.
  Chase – I do not know if you have ever seen the Super Bowl Shuffle before. You should totally give it a watch. That was a winning Bears team.
Vic Fangio:
This is the only coach firing that I am torn on. He stunk as a head coach, but watching the Broncos play, it was apparent that the players had never given up. They still played for him and believed in him. Unfortunately, that only gets him so far, his record stands for itself and he will forever be known as a defensive coordinator.
Chase – Should he have been fired? Maybe, maybe not, probably, probably not, who knows? The Broncos are in a rough patch, but will it just be more rough after this firing? I cannot help to think that maybe it just sets the Broncos up for more losing seasons to come unfortunately.
Jon Gruden:
Jake- Jon Gruden was a great coach and truly fit the Oakland Raiders. Since the Raiders moved to Las Vegas and blatant racism deservedly became frowned upon, he deserved to be fired. Jon Gruden will never have a job again and nothing more needs to be said. The raiders should extend Rich Bisaccia, and fun fact, he once coached at Wayne State. 
Chase – No one deserves a head coaching position if they are going to make insensitive remarks via business emails. He got his money, which is unfortunate for those who have paid him in the past decade. The only thing I found agreeable about Gruden was that he released a statement after his firing that this should crackdown on more people besides him. One person who falls in a worse category than him is Daniel Snyder.
Urban Meyer:
Jake- Another coach wrapped up in drama and scandals, except unlike Jon Gruden it is funny. Over less than a year, Urban Meyer had in Jacksonville he: hired a racist strength coach, gave Tim Tebow a job at tight end, the infamous bar video, ignoring his pro bowl running back James Robinson, losing and losing some more, saying he had a better coaching staff at Bowling Green, reports over locker room tension, and kicking his kicker. What a kicker. He kicked off his time in Jacksonville with a loss and then just as quickly as the losing started, his NFL career kicked the bucket.
Chase – Jake, I could not have said it any better. People made fun of him for his scandals at Ohio State, and now there are just more jokes to be made about him. An out of ordinary, but storied career he has had. Urban Meyer would be a fantastic psychology study.