The Shot Clock: Reflecting on the Past and Creating a Bright Future
The Omaha Metro Tournament experimented with the shot clock this month and helps to pave the way for a bright future in NSAA Basketball.
As I walked in, there was a familiar sense to collegiate events I had previously felt when visiting Baxter Arena. There was that distinct arena smell, a bass was pumping through the speakers as the competitors were warming up, and fans were filing down the rows to get their first-come-first-serve seats to witness the game.
Surely, as I had my camera in hand, I believed that I was at the wrong event. Did the Omaha Mavericks Hockey team play tonight? 
No, it was still what I had signed up for: the Omaha Metro Holiday Basketball Tournament. I was watching an event that featured kids who were on winter break and were participating in merely an extracurricular activity.
The environment made it out to be more than just an activity though; it was a celebration of talent. This was a place where kids could prove themselves under the lights of the arena, illuminating themselves to recruits and media personnel, like me. 
There was an experiment taking place, and it seemed to be working as fans were counting down 3…2…1 proceeding a distinct buzz. Westside Boys Basketball Senior Logan Wilson had to chuck one up…clank…Will Kyle rebounds and they keep playing.
We were only in the beginning of the fourth quarter. Why was the buzzer going off now?
The Holiday Tournament inaugurated the use of a 35-second shot clock. Sure, some were there to watch Chandler Meeks, Tate Odvody, Josiah Dotzler, Will Kyle, and the list goes on, but the shot clock was the star of the show.
People were mesmerized by it. After all, it has never been seen before. People were passionate about it, and it has reflected how the passion for NSAA Basketball has finally reacted and the product is still being yielded.
How did the state collectively reach this point where an abundance of people seem to care? NSAA Basketball competition has existed for over a century, but the hype is more noticeable than ever now.
Lacking the Offense
Archives are a wonderful way to take a deep dive into the past, and to remember what has happened. Is what happened worth remembering with some of the previous scores?
These are the first twenty state championships in NSAA History:
1930-Lincoln High (22-3) 27, Kearney (19-1) 16
1929-St. Paul (22-0) 25, Hastings 22 (OT)
1928-St. Paul (20-1) 18, Grand Island 11
1927-Lincoln High (26-3) 23, Crete (18-3) 18
1926-Omaha Tech (14-0) 17, Lincoln High (18-6) 14
1925-Omaha Tech (18-2) 13, Lincoln High (11-7) 12
1924-Creighton Preparatory 20, Omaha Central 9
1923-Omaha Tech (11-6) 25, Hastings 11
1922-Sutton (14-8) 13, Crete (17-3) 11
1921-Omaha Commerce (16-1) 11, University Place 9
1920-Lincoln High (16-0) 25, Omaha Commerce 13
1919-Shelton (10-0) 20, Omaha Commerce 15
1918-Lincoln High (16-1) 19, Omaha Central (10-5) 13
1917-Lincoln High (19-2) 17, Omaha Central (17-5) 12
1916-Beatrice (10-6) 15, Crete 11
1915-Lincoln High (21-1) 17, Omaha Central (9-5) 10
1914-Lincoln High (14-7) 21, Omaha Central (8-6) 18 (OT)
1913-Geneva (22-3) 41, University Place 26
1912-Omaha Central (17-7) 21, South Omaha 9
1911-Beatrice (9-3) 19, South Omaha (10-3) 17 (OT)
It would not be fair to criticize these scores, as Naismith was still alive when these scores were set. There was also no three point line either, and fundamentals were still in development. 
Now, fast forward to 1975-1988 state championship's scores:
1988-Millard South (21-4) 60, Omaha Benson (15-8) 38
1987-Norfolk (20-3) 62, Lincoln Northeast (18-6) 61
1986-Omaha Burke (23-2) 47, Omaha Northwest (17-7) 45
1985-Omaha Northwest (23-2) 61, Lincoln East (21-3) 60
1984-Millard South (22-3) 58, Omaha Northwest (20-5) 46
1983-Millard South (20-4) 57, Omaha Westside (23-2) 54
1982-Lincoln Northeast (23-1) 61, Omaha Northwest (19-6) 54
1981-Creighton Preparatory (22-3) 54, Omaha Benson (21-4) 53
1980-Omaha Westside (24-2) 63, Lincoln East (21-2) 55
1979-Omaha Northwest (15-8) 82, Lincoln Southeast (16-8) 63
1978-Lincoln East (19-4) 66, Lincoln Southeast (15-6) 49
1977-Omaha Burke (17-8) 66, Lincoln High (13-11) 61
1976-Creighton Preparatory (23-2) 48, Omaha North (19-6) 44
1975-Omaha Central (24-1) 47, Creighton Preparatory (23-3) 38
Improvement is evident if compared to the early decades of NSAA basketball, and some scores graze above 70 points even. How about a border state that features a similar demographic?
In the Iowa High School Activities Association Class 3A state championships, scores were close and competitive for the most part. Scores fell under 50 points only three times in that same time frame.
Do the math and that's 28 different teams in that time frame and roughly 10% of the IHSSA field fell short of 50 points in 3A state championships. Meanwhile, in the NSAA, it has happened nine times, roughly 32% of the time.
Not only that, but these low scores in Nebraska are blowouts (60-38 in 1988, meanwhile, Iowa is at 74-65). Nebraska needed someone to start captivating attention on the offensive end, and 
The search was complete in the early 1990s. 
Woolridge and Strickland
NSAA basketball lacked a figure that kept people coming back for more. The early 90s brought in two new faces from the Benson Bunnies and the Bellevue West Thunderbirds respectively: Andre Woolridge and Erick Strickland.
The two brought in unprecedented excitement and talent into the NSAA basketball competition field. Andre Woolridge, in particular, would put up a championship performance in a championship game.
In 1992, Woolridge's Benson Bunnies would take scoring to a whole new level in NSAA against the Hastings Tigers in the 1992 Class A State Championship. Woolridge contributed a record 50-point performance and defeated the Tigers 95-76.
When someone wants to talk about appealing to an audience, a score more like the one in 1992 is a good place to start. Woolridge changed the scope of good state championship basketball in the NSAA and gave the people a game to reminisce on.
When it came to trophies, Woolridge would end up having the upper hand. There was an individual competition for the Class A scoring record that was on the line for all four years of their career.
Woolridge's state championship performance in the 1992 gave him a sufficient push to a narrow finish in the Class A scoring record against Strickland. 1,911 points (Woolridge) to 1,907 points (Strickland); the two knew how to appeal to an audience.
Woolridge and Strickland would both attend the University of Nebraska Lincoln together for one year under head coach Danny Nee. Woolridge would leave after a year though and transfer to the University of Iowa where his collegiate success would really begin to come together.
The professionals even called for both of the players' names. Strickland would spend nine years in the NBA and Woolridge would spend thirteen years in European leagues.
Dirk Chatelain of the Omaha World Herald writes an exceptional piece and takes a deeper dive into the story of the two and their rivalry. The main takeaway from the two is that they changed the rapport of NSAA Basketball forever, and it has not slowed down.
The Doppelganger
I had just finished the heart-wrenching overtime loss of the Elkhorn Antlers in a grinder against Beatrice in the 2021 NSAA Class B State Championship as a student manager. It seemed no one on the team could lighten the mood much and the somber tone of the pouring afterwards rain did not help.
We were given a decision to either head back to Elkhorn or stick around for the evening tipoff of Millard North versus Bellevue West in the Class A Championship. We decided the three hour wait was worth it to see what was bound to be an NSAA classic.
Personnel vacated the arena to complete the mandatory COVID reduction routine of sanitization and maintenance of social distancing standards. The team and I were the only ones in the arena, awaiting a show on the Pinnacle Bank Arena hardwood.
The doors opened approximately thirty minutes before the tip, and fans were literally running to get their seats to the action. Students, parents, and spectators like us were ready for something special to take place.
The perpetrators of this ruckus: Hunter Sallis and Chucky Hepburn.
The two caught the attention of elite programs of Division 1 college basketball as well as blue blood programs. Tonight, the two would play their final games against each other for the ultimate prize of the tournament: the trophy.
There was a hype video with all the lights shut off in the arena, decibel volume amongst the crowd was on an incline, and then the game was under way. All of the new adaptations in the new "normal" of the global pandemic were disregarded by the attendees for the time being.
It was back and forth almost instantly; Hepburn and Sallis did not hesitate to steal the show. It was essentially common knowledge that Millard North had the upper hand in roster firepower, but that would not stop Hepburn from leaving a massive contribution to the box score. The guard knew how to make plays throughout the whole game in diverse situations, the type of player his future coach of the Wisconsin Badgers, Greg Gard, admires.
On the other hand, a strong guard to post relationship between Sallis and Creighton commit Jasen Green would retaliate against the guard arsenal of Hepburn, Greg Brown, Frankie Fidler, and Josiah Dotzler. Hepburn and Sallis both led the way though, as they would both constantly battle against each other and whatever test they posed on the next possession.
It would come down to a set inbounds play from Millard North in the fourth quarter. Old Dominion commit Jadin Johnson would inbound it to Loyola Chicago commit Saint Thomas as he would have a good three-point look that bricked at the buzzer.
The two teams could not be separated at 71-71.
Hepburn was burnt out after four hard-fought quarters, and Millard North was ready to pounce. The Mustangs gained an edge and Bellevue West could not get close enough to extend the game further.
Head Coach Tim Cannon and his Millard North Mustangs would win the Class A state championship in an overtime thriller 84-78. To no one's surprise, Hepburn and Sallis both tied for the game-high individual score with 25.
It felt like a college game, the players played with confidence and skill of those at the next level. The speed of the game even captivated the attention of the neutral viewers, which heavily populated the stands that night.
Six of the thirteen players who entered the game that night were playing Division 1 basketball the next season, Sallis' commitment was the most prominent as he would attend Gonzaga for his Freshman year of college basketball. The catapult was preparing to launch NSAA Basketball into a scope of not only the investment of the state, but the nation.
All it took to bring about attention were two athletes pushing each other to a rivalry that durated for the whole season, and the fans were there to witness it.
The Arrival of a New Normal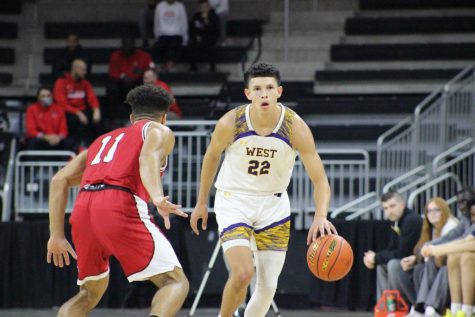 I had seen a lot of arena basketball in my life, but it was mainly for my frustrating allegiance to the Nebraska Cornhuskers. Now arena basketball features high schools who showcase their prospecting talent yearly in this type of setting.
The coin had been flipped, this is what high school basketball is now. Excitement of prospects translated to the excitement of fans and media.
The numerous sponsors who patronized the Omaha Metro Holiday tournament have caught on to what potential this new era brings. Everyone that night had an expectation: to see good players play a good style of basketball.
The players delivered clinical shooting, and the shot clock helped drive up the score as well as the tension. Bellevue West Senior Josiah Dotzler was familiar with this environment already, he would drop 24 points on 50% field goal shooting.
Elkhorn South transfer and now Westside Warrior Tate Odvody would keep the fans engaged with 20 points and 64% shooting. The Westside Warriors were hot beyond the arc with a 47% three-point percentage, which gave them an eventual push to their first Metro Holiday Tournament Championship since 2003, with a final score of 76-68.
The high scores were a new normal, the shot clock about to be as well with an insistent push to install it into all future competitions. The NSAA has a special community that is waiting to blossom, and now is the time where they are starting to adjust to these new standards that the community has set.
As I watched courtside and took notes and photos of the atmosphere around me, I could not help but to be entertained myself. I was here to work after all, but it felt more as if the atmosphere was working for me so I could captivate the vibrant aura of it.
There was never a dull moment for which my camera or my eyes could not shutter an intriguing frame. I knew that NSAA Basketball was now alive, and it was doing more than well.