Weary of War
Russia launched an assault on Ukraine, as other nations launched sanctions in retaliation.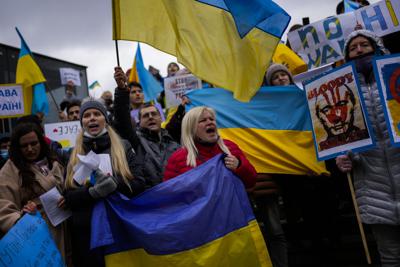 Knock knock knock raps the door as Russia wipes their feet on Ukraine's doormat. Russia checks their breath before they walk 190,000 troops through the front door. The well-oiled machine that is the Russian army is not sitting in trenches smoking and drinking their sorrows away like in World War I. Prior to the invasion Russia was preparing as the Minister of Defense Sergei K. Shoigu puts it, "large scale drills." Russia continues to run training exercises near the border as both a scare tactic and also to prepare for the inevitable onslaught as Ukraine does not have the military might go mono y mono versus Russia. Ukraine has started arming its citizens and teaching them guerilla tactics in case a Russian invasion makes it past the front lines. Citizens have been pictured carrying wooden mock guns and running around Kyviv to practice tactics and the Ukrainian military has sponsored the training of citizens by sending their military personnel into communities to train ragtag groups of people weapon safety and concepts to prepare the citizens for the worst-case scenario, a Russian invasion.
February 21st, 2022 is the day the Russian-Ukrainian war changed forever. With covid in the rearview mirror, Vladamir Putin decided it was time to wage a new war. He steadily built up his army from 100,000 to 130,000 to 150,000 and finally an invading army of 190,000. Throughout all of this aggression, communication lines stayed open as diplomatic discussions were never cut off. Even though Joe Biden and his liaisons were in constant communication with Russia and Joe Biden had a meeting planned with Russia and other European leaders sometime during the week of February 20th, the first line of the White House's press release reads as follows, "We have anticipated a move like this from Russia." The invasion started with Vladamir Putin officially recognizing the separatists in Ukraine as a part of Russia, effectively making all land controlled by the separatists, mostly eastern Ukraine, Russian land. 
Due to this move by the Russian government, the United States will act on its responsibility as a power on the international scene. Joe Biden has started it off by utilizing an executive order to "prohibit new investment, trade, and financing by U.S. persons to, from or in the so-called DNR and LNR regions of Ukraine." DNR stands for the Donetsk People's Republic and LNR stands for Luhansk People's Republic. Both are unrecognized quasi-states. This means that no government or international body has officially recognized them as an independent and sovereign nation. This measure is separate from the sanctions that will be imposed on Russia by both the United States and the international community. 
The sanctions will be attacking the oil and steel industry of Russia as those industries are of major importance to Russia. Oil and steel are some of the major exports for Russia, but they are also necessary for arms production and to maintain a functioning military. This sanction is indirectly attacking the Russian economy, while mainly focusing on the stalling of the Russian military. 
So far the threats have not worked as Ukraine has called up all reserve military personnel and Ukraine's National Security Council recently met to approve a state of emergency. The state of emergency would give the Ukrainian government the ability to put the nation in a similar state to martial law or as Ukraine's national security chief puts it, "strengthen the security of public places and locations that are critical for the public." This will take effect in all of Ukraine except for DNR and LNR where the fighting has commenced and has been ongoing between Ukraine and Russian separatists since the Crimea Crisis in 2014. 
The European Union is already thinking about the future after this settles down. It will start with reestablishing their stance on Russia and that starts with their dependence on Russian energy, mostly their oil. This comes after a winter where Oil was in high demand, especially in Germany yet Gazprom, Russia's state-run oil company, delivered the bare minimum oil to Germany. The European Commission President Ursula Von der Leyen said, "[It was] a strange behavior for a company." 
This lack of oil shipments to Germany means that Russia was storing up oil for the invasion of Ukraine. This comes in conjunction with Russia's position in the United Nations. Every month the president of the United Nations rotates to a new country. The United Nations president has the authority to call meetings, set the agenda for meetings, set speaking times for meetings, and end meetings. This month Russia is the United Nations president and tried to utilize its power to disallow an emergency meeting by western powers to discuss the new developments in Ukraine. These actions did not work out for Russia as states such as the United States, Germany, Great Britain, and Ukraine had a meeting anyways. 
Ukraine has attempted to mount a defense against the Russian invasion and it has proved to not be irrelevant. The Ghost of Kiev has taken down 6 Russian fighter jets and there has been a multitude of tanks, armored vehicles, and other Russian equipment whose usage has come to an end. At the time of writing this Russia has failed to capture the entirety of Ukraine, though fighting continues. There is no end in sight, but the world, besides China, has rallied behind Ukraine in an effort to stop Russia from starting another world war. 
Russia has continued to deceive their people. So far Russia has only had one confirmed dead soldier, Russian officer Nurmagomed Gadzhimagomedov. This news did not come from the Russian government, instead from an Instagram post from a Russia appointed official in Dagestan. Russia has continued their censorship of actual numbers as there has been estimated ranging from 500-5000 military personnel dead on Russia's side alone but the government refuses to acknowledge any deaths.
Ukraine is not as fortunate in this scenario as their citizens are being caught in the crossfire as citizens are being rushed to the hospitals with fragments of bombs and severe burns hurting innocent lives. There have been estimates of 200-1000 civilians killed due to the fighting across Ukraine. Healthcare Minister Victor Liashko stated in a press conference that Russian forces have killed at least 16 children during their invasion of Ukraine. Ukraine's Foreign Minister Dymtro Kuebla said, "Russian troops assaulted an orphanage with 50 children inside, as well as a kindergarten."
A hospital deputy chief Khoruzhenko Vita told the Washington Post, "Today we lost a little girl, 8 years old."