Putting a Few Yards Short
The end of the girls' golf season brings improvement and accomplishments for all.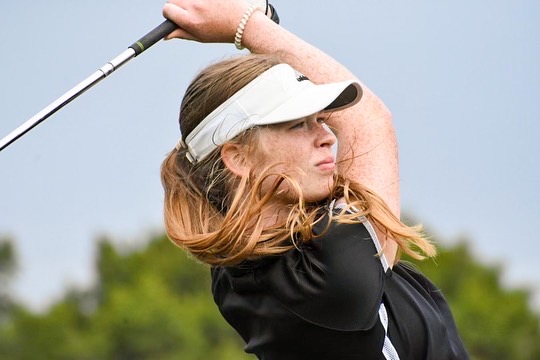 Elkhorn girls' golf concluded their season this week with a disappointing loss but extensive improvement all around. 
The Antler golfers finished in 4th place at districts on October 3rd, with senior Katie Schultz placing 11th, senior Grace Swanson in 16th, and senior Alexa Swerczek in 19th. The team improved tremendously throughout this season and past seasons. 
"I think our varsity team was specifically a lot better than last year. I think last year we struggled a lot with commitment to practicing and stuff like that," varsity captain Grace Swanson said. "But, this year, all our five varsity players really committed to making the team better."
The team's success this year came both with their skills and with their bonds as a team. The girls learned to communicate and have fun while still improving their scores. 
"I think communication definitely improved, I think that can come with maturity," head girls' golf coach Ben Meyer said. "I also think social skills improved once we got to know each other. The work ethic, like knowing how to practice, got better because that always takes time to improve in those areas."
The varsity scores this year were some of the lowest that Meyer had seen in his years coaching at Elkhorn. 
"We had really good scores. We had some of the lowest team scores that we've had during my tenure, I think the second lowest score ever in program history from what I've seen" Meyer said. 
Freshman Annabelle Bang had a particularly successful season. As a freshman on varsity, she saw large achievements made by the team and herself. 
"I think it went really good and we had really positive mindsets. A lot of people improved," Bang said. 
While the season might not have ended the way they hoped, improvements were made by all. Meyer is already looking forward to seasons to come.
"I'm just looking forward to seeing improvement from the girls over the course of the summer," Meyer said. "The group of girls that are coming back is a good group of individuals, so I'm looking forward to being able to coach them every day."