Schutte Sets Team For Success
Senior Setter Earns Career Milestone and Antler of the Week
If you are looking for someone to set you up for success, senior volleyball player Ella Schutte is the right person for the job.
Shutte earned her 1,000th career assist this season, despite only playing two seasons as a varsity setter.
"As a setter, I have to set the ball up to a teammate and they have to get a kill. Then it counts as an assist for me," Schutte said.
Schutte is this week's Antler of the Week for her volleyball career achievement.
Schutte said she has had an interest in volleyball since she was nine years old, and has played for club teams since she was 11. Despite her longevity in the sport, Schutte said she was shocked even to be close to her 1,000-assist milestone.
"When I received my 1,000th assist at the Bellevue triangular, I had no idea I had been close to it, but it made me really happy to receive it," Schutte said.
Senior volleyball player Kaeyln Anderson, said she has known Schutte since middle school and has seen her hard work, and determination in volleyball from the beginning. "She really pushes all of us, and she's really competitive", Anderson said.
Schutte's coach, Morgan Johnson, a special education teacher at Elkhorn Middle School, is very proud of Ella's progress from the two years of coaching her.
"This is a big accomplishment for Ella and her teammates as well," Johnson said. "For Ella to do it only in two seasons, that's pretty special as well. Ella has worked hard in practice and games to get to this point and as her coach, it's awesome to see the success for her," Johnson said.
Johnson said playing setter is a difficult role on the team, because that player must make constant connections with the ball and with her teammates. She said Schutte's hard work helped her get to the position she is today.
"I definitely think that determination has to do with it," Johnson said. "There has to be a good connection between a setter and the hitters and without that, it would have been difficult to reach 1,000 set assists," Johnson said. "Ella was not on varsity prior to her junior year, but you can't tell. She comes to practice every day ready to work hard and get better, not just in setting but in other areas of volleyball as well."
With Schutte's last season coming to an end, receiving her 1,000 assists has made her coach and fellow teammates proud of her accomplishments.
"I will miss her at practice every day," Johnson said. "1,000 assists in two seasons is an awesome accomplishment, but the best part was that Ella had no idea that she met that. A setter rarely gets the accolades because the hitter is the one making the 'big play' I am proud of Ella for the hard work she has put into this program. She has set quite a standard for future Elkhorn Antler volleyball players, especially setters."
Your donation will support the student journalists of Elkhorn High School. Your contribution will allow us to purchase equipment and cover our annual website hosting costs.
About the Writer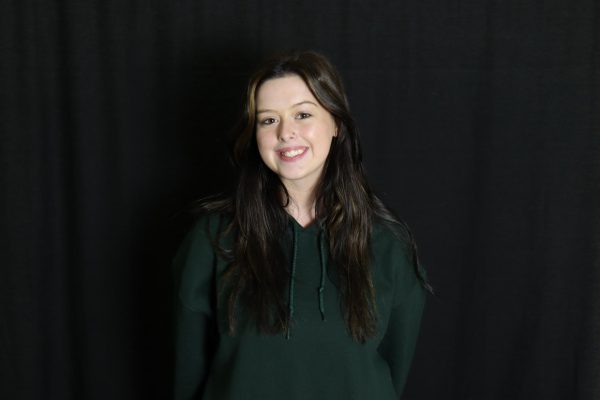 Makayla Brackett, Managing Editor
Makayla is a senior and serves as the managing editor for the Antler Express. This is her third year on staff.