Tanner Houck: Antler of the Week
The new bowling season rolled in new student-athletes on the lanes.
Senior Tanner Houck earned Antler of the Week for his incredible bowling score improvements throughout the season.
Houck did not expect to become a new Elkhorn High bowling member; however, with all his friends joining, like seniors KJ Schenck, Cooper Schenck, Ben Reynolds, and Connor Hunt, he decided to join.
"I joined because Mrs. Mac is the coach, and all my friends were joining," Houck said.
Houck took a drastic change in athletics from running down the football field and scoring touchdowns to bowling in lanes and knocking down pins.
"[Bowling] is a lot easier, and it is a lot less pressure," Houck said.
Physical education teacher Kelly McMeekin took on the role of Elkhorn's first bowling coach. McMeekin knew Houck's performance on the football field and as a student in her gym class, so she welcomed him to the new bowling team.
"He has been improving his form, and he has been practicing every day," McMeekin said. "We have had just a lot of athletes improve their scores throughout the season, and it's been a lot of fun."
Houck started the season as a brand new bowler and worked his way up with hard determination and a lot of time practicing to make his new record of bowling 266. When the season started, Houck's grandfather bought him a new bowling ball.
"He really likes bowling and wanted me to go out [for the team]," Houck said. "He usually goes to my meets."
Houck's friend and fellow senior Connor Hunt is also on the bowling team. Since third grade, Houck and Hunt have been on the same baseball team, and now, nine years later, they are sharing lanes on the bowling team.
"It's our first year, so we didn't win that much, but it was a fun experience," Hunt said. "[Houck] is a good bowler; he is competitive and consistent."
About the Contributor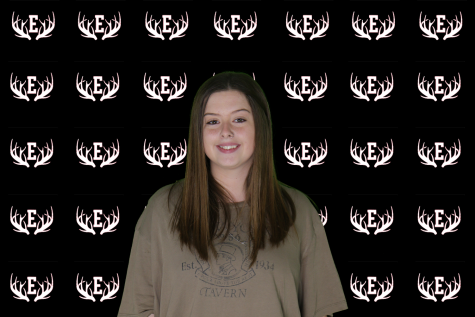 Makayla Brackett, Website Manager
Makayla is a junior and a co-business manager for the Antler Express.