Fearless (Lindsey's Version)
Taylor Swift rerecorded her 2008 album "Fearless," and is it as good as we remember?
On February 11th of 2021, we were all blessed to hear that, thanks to Scooter Braun stealing her masters, Taylor Swift would be releasing the rerecording of her second album "Fearless". Only months later, on Friday, April 9th, we all got to experience the masterpiece that is "Fearless (Taylor's Version)." I went as far as to decorate a three-layered funfetti cake for the celebration. I have no regrets, and still stand by the fact that this was an iconic moment of history that could not go unnoticed.
Let's start off with the first new song released, "Mr. Perfectly Fine (Taylor's Version)[From The Vault]." I'm simply obsessed. Swift brought us back in time to the 27-second breakup call with Joe Jonas with this one. The lyrics surround the fact that Taylor was sitting heartbroken after the split while Joe seemed to be "perfectly fine." Though, the best part of the song is at the end of the bridge. Swift sings, "And someday maybe you'll miss me but by then, you'll be Mr. 'Too late.'" It's dark, and it's heartbreaking, until the key changes shortly after and she sings, "Goodbye, Mr. 'Perfectly fine' How's your heart after breakin' mine?" Taylor wrote this song and chose power. I get chills and blast my speakers every time.
I feel the need to discuss the treasure that is "You Belong With Me (Taylor's Version)" after my newfound love for this song. Truthfully, this single has always been a hit or miss for me. It's fun to sing in the car with your friends, but aside from that, I never took the time to listen by myself. However, due to new circumstances in my personal life, I can stand by the fact that you can 100% scream this song on a late-night drive to drown your sorrows in a McDonald's McFlurry. Moving on from that confession, Taylor's vocals have massively improved since the release of the original album. In this song, especially, her lung capacity has expanded massively, and the country accent has transformed into more mature vocals.
I cannot write a Fearless (Taylor's Version) album review without addressing "That's When (Taylor's Version) [From the Vault]." We were robbed by not hearing this song back in 2008. It easily could've been a single that topped country charts. Keith Urban pairing with Taylor Swift is something that I will never get over. This song makes me want to drive down dirt roads and yell at my imaginary boyfriend who broke my heart. This song makes me want to dance in a cornfield (though I'm not sure that's a thing). The moral of the story, I love this song, and I encourage everyone to give it a shot.
Overall, this album shows a glimpse of Taylor's old self in this new era of music. It's a blast from the past and a sense of nostalgia that I thoroughly enjoy listening to each time I jump in my little Honda Civic. I'm beyond excited for the next rerecording to release, and I suspect that it will be 1989 next! Are you ready for your wildest dreams to come true?
About the Writer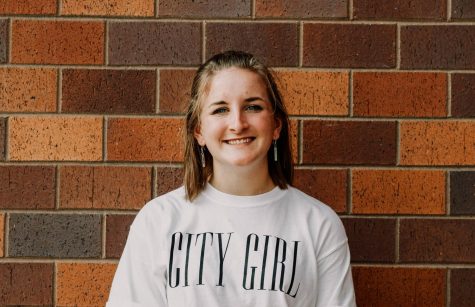 Lindsey Mulder, Reporter
Lindsey is the former Video Editor at the Antler Express.