A Sibling Victory
Sisters Abby and Ally Metschke win state championships this year, the only Elkhorn siblings to do so this school year.
Hang on for a minute...we're trying to find some more stories you might like.
Abby Metschke grabs the baton from her teammate's hands and pushes her legs to run as fast as she can for the 3200 meter relay. Ally Metschke uses her legs to control the soccer ball as she tries to score and beat the opposing team. Both sisters push themselves beyond their limits, and in the end they both reap the rewards of hard work: the golden medal that symbolizes a state champion. After a season of working diligently in track and soccer, the Metschke sisters, freshman Abby and junior Ally, earned the title champion at the ends of their seasons. They are the only siblings this school year to win state championships. For both sisters, it was their first time being at state.
"It was really cool being at state," Abby Metschke said. "I almost cried because for three of us on the team, it was our first time at state." Abby won a state championship as a member of the 3200 meter relay at the state track meet.
"It was definitely a memorable and amazing experience for me," Ally Metschke said of the girls soccer team's run to the state championship.
Being athletically talented is no surprise in the Metschke family. Both girls said the skill for sports runs in their blood and that their parents had them involved in sports from a very young age.
"We've been involved in sports since we were young," Abby said.
Although both sisters are extremely competitive, they don't show that nature towards each other. They take pride in each other's success.
"It's hard to compete with her [Abby] since we're in different sports," Ally said.
Though they compete in different sports now, the girls said they have a history of competing in the same sports, such as dance, basketball, softball, and soccer, but they've only ever been in the same dance class. Throughout their sports careers, they've always been on different teams. Even though the sisters aren't competitive with one another, both sisters said there is some pressure to be as good as the other. Ultimately, they think about supporting each other to succeed in whatever event.
"I was really happy for my sister when she won the championship and our parents were very proud of both us," Abby said
"It's really cool because we're really close with each other and we're both supportive of one another," Ally said.
You would guess that there is some sort of distinctive tradition the girls carry out to support one another, but the Metschke sisters like to keep it simple and classy: by simply attending each others' meets and games.
"To show my support, I went to all her state games and cheered her and I also follow the Twitter and know what happens," Abby said. "It's nothing special," Ally said. "We're just showing our support."
The girls' success can be attributed to hard work and a positive mental approach.
"My motto is to always try to achieve my full potential; even at practices, when people say that I don't need to do this or that, I still push myself to finish the workouts," Abby said.
Ally's plan is focused and driven as well.
"My motto is to stay composed and keep everything in front of me," Ally said. "It's served me well on the field and in the classroom."
About the Writer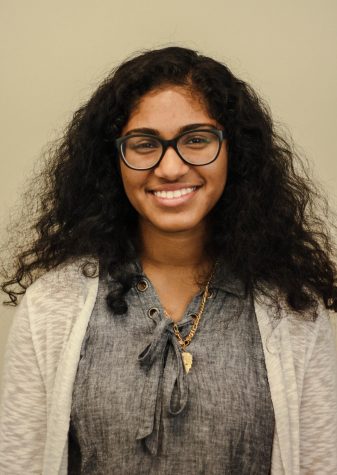 Bhavana Sunil, Web Editor
Bhavana is the Web Organizational Editor. She is a junior and a second-year reporter at the Antler Express.