Peace Love And Festivals
An unforgettable festival of vibrancy and uniqueness.
It was a bright and sunny day perfectly fit for bubbles, flowers and peace signs. August 21 felt like a good day for a little road trip down to Bellevue for Hippie Fest 2022. That morning I called  my boyfriend Kaydn Zimmerman and told him to put on something colorful cause we were going out.
Gradually, he found out where I was taking him, Zimmerman said "I expected to see a lot of colors and peace signs and a bunch of hippies playing guitars."
When we got there we had to buy tickets online because they didn't take cash, and if you did use cash it would've been twice the price. We also kept continuously punching each other in the shoulder because of the amount of slug-bugs we saw.
The look and the feel of the festival was exactly how you'd think it would be, bubbles being blown everywhere, lots of flowers and tie-dye, and many stereotypical  Volkswagen vans. 
Every vendor stand had at least a couple pairs of circle hippie glasses so you know we had to walk around wearing those.
.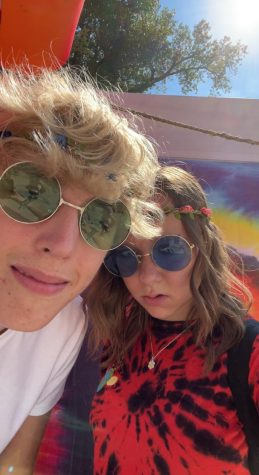 "There were a couple shirts I found supporting mental health and had cute designs that interested me, as well as Jane looking at triangle shaped earrings that had dried flowers on the inside that still contained their vibrant color so I ended up getting her those." Zimmerman said.
There were around 100-150 vendors there selling jewelry, clothes, crystals, candles, and all the other essentials that would fall into the hippie category. There was also quite a bit of live music including a big stage and some people just playing their guitars. 
I wanted to get something for my mom so we stopped at a candle vendor and I got her some apple pie wax melts. Made from soy and locally made, it smelled exactly how fall feels and would make everything your home smell like walking through patch of apple trees with the cool air blowing the leaves off of the trees.
I had the great opportunity to talk to Savannah Willard, the owner of that vendor at hippie fest. Savannah is a 21 year old author and business owner of Willard's Wicks And More making candles, soaps, etc. Willard said "My husband was deployed for a year overseas and I was trying to keep myself busy so my new found hobby was making candles.Through trial and error I finally got the hang of it, and was official in May of 2022." 
From talking to Savannah I learned that a lot of young business owners like this attend craft shows like this one and use social media to get their name out, which just so happens to be how I found her as well. 
It's very important to support local businesses and attending these events do help get the word out for people.
They had 9-10 food trucks that had a vast variety of food to choose from but the only option they didn't have was water because they were sold out at all but 2 trucks.
Zimmerman stated after heading home "my feelings were satisfied and lightened in my mood because of all the positivity that was shown there."
Me and Kaydn both agreed it was 100% worth the money and we'll definitely be going back next year.